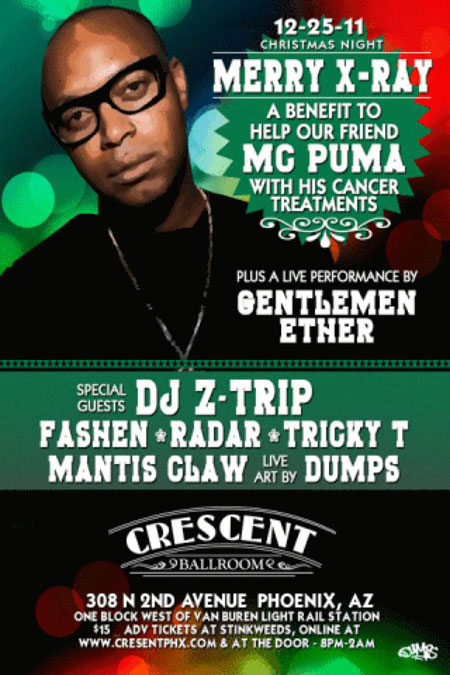 Last month, Phoenix's Djentrification held a benefit at his 602'sdays night at Bikini Lounge for longtime local MC Puma, who has been battling a cancerous tumor (retroperitoneal seminoma). Puma told me recently he had his last chemotherapy treatment, but the bills likely won't stop anytime soon.
That's why more of Puma's peers, friends and fans are coming together on Christmas night at Crescent Ballroom for Merry X-Ray, a benefit show headlined by the homecoming of DJ Z-Trip, who used to run with Puma back in the Bombshelter DJs days. Fellow Bombshelter turntable ace Radar is also on the bill, along with Tricky-T, Fashen (also returning from L.A.) and Mantis Claw (formerly of local hip-hop group Supermarket).
Anyone who has spent any time in the scene knows this type of support is hardly a surprise. We take care of our own. But perhaps the most important name on the Merry X-Ray bill is The Gentlemen Ether, a new-ish two-man project that features none other than Mr. Puma and Lynx Kinetic. I haven't been able to see them yet, so I'm pretty excited that the first time will happen on what figures to be a special night with Puma's return to the stage.
Tickets for Merry X-Ray, which is a 21-and-over show, are $15 and available here.
More on this show – with possible interviews – as the date approaches.
Hopefully, you already know where to download all sorts of free Z-Trip goodies – download 'em all, but especially Uneasy Listening under "mixes" – and you can get your hands on a Gentlemen Ether track, "Whoompsh," at Bandcamp (or below).