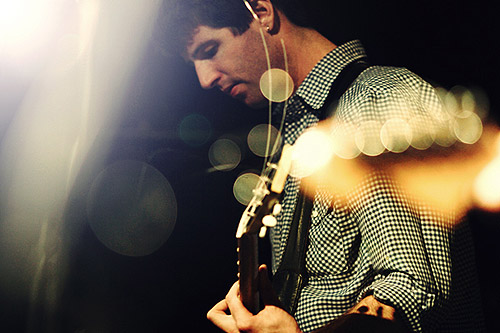 The seventh installment of 110 Percent, a series in which I talk to musicians about sports, features Matty McLoughlin (photo credit), guitarist for the Soft Pack who was a reliever in college for the University of Richmond baseball team.
While on the road last week in support of the Soft Pack's great new album, Strapped, McLoughlin looked back at his college career – which included a no-hitter, a regional victory, playing with/against future big leaguers and a bum arm by the end of it all – and his eventual transition from pitcher to musician.
I know you played at University of Richmond. Did you play all four years there?
No, my freshman year I went to Saddleback Junior College in Orange County and then I went to Oregon State, but I didn't end up pitching there. I got in trouble … I don't really wanna get into it (laughs). I didn't end up pitching there and I transferred to the University of Richmond. So basically my sophomore, junior and senior years.
Are you from the West coast?
Yeah, I went to high school in San Diego at Torrey Pines.
So that was a big move for you then.
Yeah, but I kinda lived all over the country. I moved to San Diego when I was 15. … But Richmond was good. I didn't expect them to be as good as they were. We had Tim Stauffer, who was the No. 4 overall pick, and we had like five other guys drafted. The highest we were ranked, like in 2004, I think Baseball America ranked us No. 9 for about a week. We were good for a couple years. It was fun. It was a good school to go to.
I was just doing a little bit of reading, and you pitched part of a no-hitter?
Yeah, I threw the back three innings, the seventh, eighth and ninth, against Coastal Carolina, which is actually a pretty good school. They always make the tournament.
That's kind of a big deal.
Yeah, but the biggest thing I did was I beat Wake Forest in the regional in 2002. That was kind of the biggest deal. The Coastal game was just some tournament – I mean, It was nice. But I didn't even start the game. You know, the last three innings are hard, but it was kind of a weird thing. But the Wake thing was definitely my shining moment.
Did you start that game or come in relief?
I came in relief. I pitched, like, the last 4 2/3 or something. They were really stacked that year. So we made it to the super regional and we were playing Nebraska. We lost the first game, won the second one and it was tied in the ninth on Sunday and our closer gave up a bomb. I pitched the seventh and eighth and got taken out. I never played in front of that many people.
So you were a home run away from going to Omaha.
Yeah, we were so close, which is fucked up because from like sixth grade on I went to the College World Series every year.
Also, I saw you're 10th all-time at Richmond in saves with six.
Oh, wow, really? I didn't know that. That's not a lot of saves, but I'll take that. Nice, in the record books (PDF link).
So what was in your repertoire?
My changeup was my best pitch. I was kind of like the classic crafty college right-hander. I threw like 86 mph to 88 – 88 on a good day. But my fastball sunk a little bit, I hit my spots and would throw everything in any count. I was good for college, but I wasn't gonna pitch in the big leagues or anything.
Was there interest?
I filled out a couple draft cards my senior year, but that's as far as it got. I kind of knew that wasn't happening. And then I got an internship at a record label and moved to New York and didn't pick up a baseball. My arm was a mess at the end.
Were you juggling music while playing in college?
Not really. I would play alone in my room and stuff. But in high school and college, I was playing baseball all year round, so I couldn't really get in a band. But I've been playing guitar since I've been in the seventh grade.
By the end of your college career, did you feel like you were burned out on baseball or would you have taken the chance to play in the minors somewhere?
I wish I had signed a free-agent contract just to play for two weeks and then quit. But I was totally burned out on baseball. At that time, my senior year, I would just go see bands and get wasted all the time. I knew I wasn't gonna go any further. That was when I'd say, "Oh, I can go out before a game." I kind of knew … when you realize you're not going play any further, you just want to do something else.
So you played with Tim Stauffer … people who know baseball think of him, like, "Oh, he's good … a No. 2 or 3 guy." But when you saw him in college he was probably amazing, right?
There was a lot of pitching in Virginia at the time. He didn't throw as hard as Justin Verlander (at Old Dominion), but he had that 12 to 6 with 94 mph. If you're throwing that hard and you're 12 to 6, you're nasty. … So he had all the out pitches and a changeup, but then your arm gets hurt and you're throwing 89 and just nibbling and falling behind and you have to throw something that they're gonna hit. But in college, yeah, he was dirty.
So you saw Verlander up close. He's obviously amazing now. When you saw him back in the day, did you have any idea he'd be as great as he is now?
I remember shagging balls at Old Dominion, and he was, I think, a freshman. He's throwing a bullpen and you can just hear it. He threw a ton of innings in college. It's the same thing as now. …
I moved to Southern California from Texas and I played against all the guys, and rarely do you see a pitcher who can hold up. He's been like that – just that Nolan Ryan thing.
I know you're on the road, but do you keep up with MLB games?
That's the hardest thing. I catch highlights. We're at bars every night, and I try to make them put on a game. But by the time we go on, it's like the seventh, eighth, ninth inning. But at home I watch the MLB Network all day long. My writing process is just have that on, smoke a joint and play guitar. But yeah. MLB Network – all day long.
Are you loyal to a specific team?
Yeah, I grew up a Red Sox fan. My parents got engaged at Fenway, so I grew up a huge fan. And I'm still a huge fan. But Valentine, I can't even look at his face. … But some teams are just fun to watch. Like the A's. This year the Dodgers were really exciting and young and fun. … I kind of adopted the Dodgers as my NL team. And I go to a lot of games because I live right by Dodger Stadium.
Wait, I wanna go back: You said your parents got engaged at Fenway?
They didn't do a JumboTron thing. But it was at a game. And our first cat was named Yaz. My dad didn't want to get a cat, but the only way we could get the cat is if we named it Yaz.
Were you a baseball card collector?
Yeah … I'd go to card shows every Sunday up until probably seventh, eighth grade. … But we moved around all the time, and they're not around. So I don't have any cards. I don't know how it happened to me, but my baseball cards got thrown out.
So have you thrown or played baseball since college?
Toward the end of my career, I was getting cortisone shots. I didn't really care if I ever threw again. I just wanted to finish the year, so I was getting cortisone shots. My rotator cuff was kind of a mess. The last time I played catch was probably about a year ago. I was like, "OK, I wanna start throwing and build it up and maybe my arm won't hurt." But it just started throbbing again. So I started playing pickup basketball (laughs). When you're hurting and you're old, it just sucks.
When you look back, do you have any regrets?
No, I don't have any regrets. I got as far as I could with it. I didn't have the ability to go any further. But I had a lot of fun. And it's cool to watch TV and be like, "That guy hit a home run off me."