Jason Woodbury's next round is on me. His words about Anni Rossi's show on Monday at Modified are below.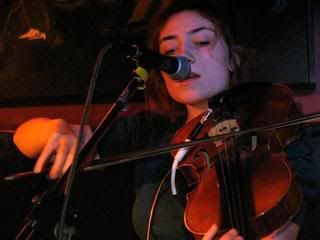 When it rains in Phoenix, people stay inside. It's a shame but a fact, and the Modified's sparse but devoted crowd attested to it as they gathered to watch Stellaluna, Stephen Steinbrink, Whitman and freshly minted 4AD Anni Rossi take the stage on a soggy Monday night. Shame, too, because there was plenty worth venturing out for.
Stellaluna's Francis, who puts on shows as Fizzle Promotions and also plays music as part of the folk-pop duo Uggamugga, performed with members of Cardiac Party, My Feral Kin, Turn Back O Man and SGJ as her backing band. Her first performance featuring these members, her twee-pop style and clear, girlie voice belied a darker, sexier undercurrent, with lyrics influenced by her beloved Bukowski, Fugazi and local boys Andrew Jackson Jihad. My Heart is an Anchor found Ryan of Cardiac Party adding subtle harmonies, and their musical chemistry was contagious.
Stephen Steinbrink, who I very recently blogged about took the stage all by his lonesome, with a notebook, a crappy Fender Squire and a tiny Peavy amp, and proceeded to destroy the room. The sound of cars and rain added a gorgeous backdrop to his sparse songs, and his solitary voice was met by a cross-legged, attentive crowd. He took requests and played an incredible cover of Arthur Russell's This Time Dad You're Wrong. I picked up Wedding, the CD-R companion to his recent album Ugly Unknowns, soaking myself in a walk to Circle K to pull out some cash to purchase it with and buy coffee.
Whitman, from L.A., played next. I once read that the best music is the kind that inspires extreme reaction; the only thing comparable to having someone say they absolutely love your music is to have someone say that they absolutely hate it. I've got plenty of respect for Whitman's search for "musical freedom," but the approach seemed more petulant than honest to me, like Jandek minus the sense of otherworldly, and I found myself extremely "not into" his set. SGJ and American Gil provided an interesting background of ambient, grating and found noise, but in the end, I can only propose that maybe I just don't get it.
Anni Rossi performed with just a viola, a mic for her elastic voice and a box for elevation and stomping sounds. Her classical training is apparent; clearly, this lady knows what she's doing. Her songs had a classic 4AD sense about them, ghostly and pretty, but alternately violent and unhinged. Her debut album for 4AD, Rockwell (Any relation?), recorded by legend Steve Albini, hits streets and record stores on March 10, and most press will say something stupid like "a female Andrew Bird." Ignore and check out.