If I didn't like contributor Jason Woodbury so much then I might have killed him for not telling me he was going to mention Wavves. Just this once.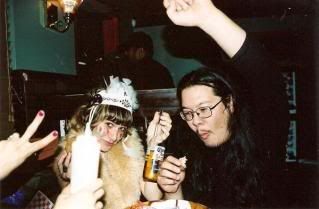 OK, so while the whole mess of "Psychedelic Horseshit on Wavves plus Black Lips on Wavves plus Wavves on Wavves" is starting to feel pretty overcooked, it's undeniable that in the wake of the Pitchfork-stoked hype fire of Wavves and Vivian Girls, people have rightly been asking if substandard tunes covered in tape hiss and fuzz deserve to lauded as "Best New Music." Bands given the "lo-fi" tag run the gamut from the remarkable (Ganglians, Woods and Crystal Slits) to underwhelming (No Age, the aforementioned offenders), linked less by their songwriting than by their aural presentation.
L.A.'s Best Coast certainly run the risk of being lumped into the whole thing. The signifiers certainly do little to distance the project from the glut of like-minded acts: the blown-out drums, scuzzy guitars, and, of course, plenty of hiss, as well as gigs at L.A.'s ubiquitous The Smell. But Best Coast, current project of ex-Pocahaunted ("the Olsen Twins of Drone") member Bethany Cosentino, breaks from the herd with a liberal dose of pure pop at her side. Best Coast hasn't actually released anything, but the songs on the MySpace go a long way in cultivating anticipation for her upcoming 7-inch on Art Fag Recordings. All six tracks hosted are the kind of breezy, gentle power-pop that is tailor made for beach listening, at once wistful, engaging and elemental. And her fan base (cult?) is a quick-moving one. Standout track The Sun Was High (So Was I) is weeks old but has not one, but two excellent fan-made videos making the inter-tube rounds. Scuzzy and "lo-fi" for sure, but most importantly, awesome jams.
Previous posts by Jason:
Kissing Cousins: Pillar of Salt
Review: The Hold Steady, A Positive Rage
Anni Rossi, Modified, 2/9/09
Stephen Steinbrink: Ugly Unknowns
Obi Best/Towncraft, Modified, 1/22/09