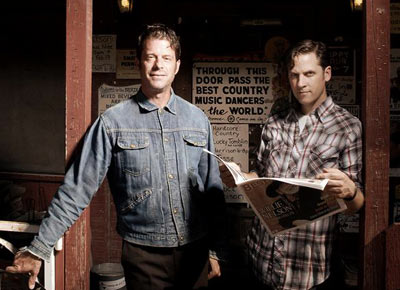 There is little doubt that SB 1070 – that heinous anti-immigration black eye on our state – has sullied Arizona's reputation. When I traveled to Illinois for a wedding last month, that's all anybody seemed interested in asking about when I revealed I was from here. Though I find nothing redeemable about this bill, I'm sick at how many people who know so little about or never have been to Arizona suddenly have so much to say about it. Hey, look, I'm not defending our conservative politicians (I didn't vote for them), I'm just not willing to accept people disrespecting the place I've called home for almost 25 years. I guess it's my civic pride.
So thank God for a band like Calexico, an Arizona institution. The Tucson-based group has jumped in the SB 1070 fray, but they're not asking/expecting musicians to not voice opposition to it (who would?). They're taking a different tack: Come to Arizona and actually do something. Don't boycott from afar. That's too easy.
"We're asking artists to take a stand, make their voices heard and inspire fans to get involved," frontman Joey Burns says. "Now is the time when art can make a difference. Now is the time for action."
As an Arizonan, I'm quite grateful for Calexico, a band sticking its neck out to engage in thoughtful dialogue at a time when it's not very popular to be from here.
And, really, all I wanted to tell you is that the band, in conjunction with CASH Music, is offering a free download (320 KBPS) of a 2009 show in Nuremberg, Germany. The download is a way for the band to celebrate the start of a new tour, but I'm listening (and appreciating) Calexico for reasons that hit closer to home.
Calexico, Live in Nuremberg (download via CASH music):
1. Roka
2. Bend To The Road
3. Inspiration
4. Crystal Frontier
5. Two Silver Trees
6. Red Blooms
7. Victor Jara's Hands
8. Man Made Lake
9. Fractured Air
10. All Systems Red