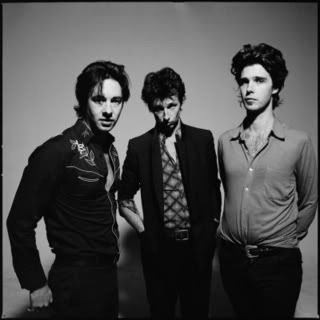 Wading through the piles of CDs on my desk recently, I couldn't believe I haven't done a proper post on
Devastations
, other than singer Conrad Standish's
excellent contribution
to the
I Used to Love H.E.R.
series.
Devastations ("Devs" to their close friends) released Coal on Brassland in the United States last year; I believe the LP had a European/Australia release in 2005, but don't quote me on that (they are from Australia). (Also, you may recognize Brassland as the label run by writer Alec Hanley Bemis and the Dessner twins of the National.)
Anyway, if you're feeling emotionally vulnerable, maybe you don't want to listen to Coal. Or then, maybe you do. Standish's baritone voice can be comforting, in the way the bottom of a bottle might be if you're feeling lonely. It's moody and intense, and Standish's low-register range reminds me a great deal of Mark Sandman from Morphine.
Devastations | The Night I Couldn't Stop Crying
(Coal available at eMusic.)
One more thing: Oh, hell yeah!