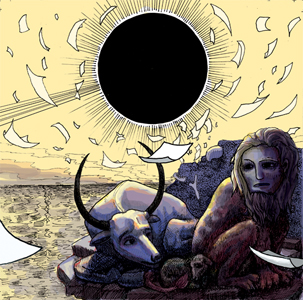 With My Left Hand I Raise the Dead cover art.
The fine folks at Brassland, home to So Much Silence favorite Baby Dayliner and former home of the National, have offered me (to share with you) the new Doveman video for Castles, from his forthcoming album With My Left Hand I Raise the Dead.
Startling in its minimalist approach – black and white, slightly grainy, single-camera view – this video works as an ideal visual complement to the hushed vocals of Doveman (aka Thomas Bartlett). If Doveman's voice doesn't elicit some sort of inner emotional response, then the video's surreal slo-mo pacing should.
With My Left Hand already is available on eMusic; it will be on record shops Oct. 9 and on iTunes later in the month.