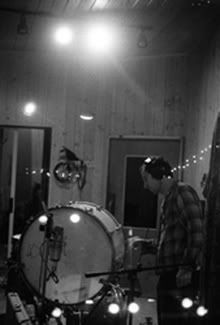 Because I'm not a devoted reader of Pitchfork (sorry, I while away my time at other, more sophisticated sites), I sometimes miss cool stuff, like Earlimart releasing three new MP3s through Pitchfork … LAST FALL. Yeah, so I'm really behind. (Go here, here and then here.)
Nevertheless, I'm caught up enough to know Earlimart has named its new record Mentor Tormentor, a title frontman Aaron Espinoza says on the group's Web site, "holds plenty of meaning and mystery."
Of the three new tracks, Everybody Knows Everybody strikes me most, though that's not to say the others aren't good (they are). But Everybody is a distinct departure from Earlimart's usually sullen temperament. It feels angry and full of purpose, and its title seems to resentfully suggest an inner circle that's become increasingly suffocating and too close for its own good. "Revenge" comes up often here.
"Choose an alternate end /
without involving my friends /
I always thought that you'd keep it to yourself /
But can you keep it from everybody?"
It reminds me of the similarly titled Everyone Knows Everyone by the Helio Sequence. People change, friends betray, feelings are hurt, people talk, nothing's the same again, and it's too much to take when everybody knows everybody (or everyone knows everyone).
Earlimart | Everybody Knows Everybody
Visit Earlimart's blog.