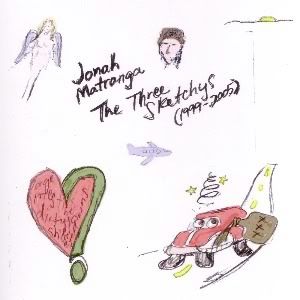 If ever there was proof of Jonah Matranga's prolific output, it's all here in one nice package on The Three Sketchys, a collection of three homemade EPs that were self-released and distributed in various ways.
This release combines all three (19 tracks) and includes a bonus remix of The Big Parade by Ian Sefchick, formerly of Creeper Lagoon. For some reason, the eMusic version includes a 20th track 14-41 (Prom-style)+Thoughts that doesn't appear to be on version at Jonah's store.
And if we weren't already aware of Matranga's keen ability for choice cover songs, he adds three more here: I Want You Back (Jackson 5), Got My List (7 Seconds) and, my favorite, Savory (Jawbox).
The Three Sketchys collection is available at eMusic or through Matranga's online store, where he allows a very progressive and fan-friendly "pick your price" purchasing plan.
Also, Matranga is at Modified on March 18 with Frank Turner and Joshua English.
Previously:
I Used to Love H.E.R.: Jonah Matranga.
Jonah Matranga/Frank Turner split 12″.
Lupe Fiasco/Jonah Matranga: Never Lies.
Jonah Matranga live CD/DVD: There's A Lot In Here.