When my brother and I were hatching plans for Saturday's show with Birdmonster (hey, look, a flyer!), we knew we wanted a third band (it has since turned into five). "Traindead," was the first word out of my bro's mouth. I knew he wouldn't steer me wrong.
Phoenix tends to be littered with some bands that wish they were reared in Los Angeles or New York. It can result in horribly executed exercises in self-importance and pretension. Traindead is nothing of the sort. Despite having precious little material available so far – I believe they started recording in earnest last week – I'm pretty excited about what a finished product will sound like.
The trio reminds me of Portland's Pinehurst Kids (circa 2000's Viewmaster) – fuzzed-out guitars, throaty vocals and hungover lyrics ("tomorrow can't seem to get here fast enough"). The key here is pacing. Nothing feels rushed, like on the aptly titled Slow Burner.
Give it a go and download more demos at Traindead's MySpace page. Then come out and see 'em Saturday.
SAY HELLO TO MY NEW BABY: I bought this Pioneer PL-518 from a nice man off Craigslist. He was the original owner and still had the instruction manual and a tonearm-balancing tool. My kind of guy.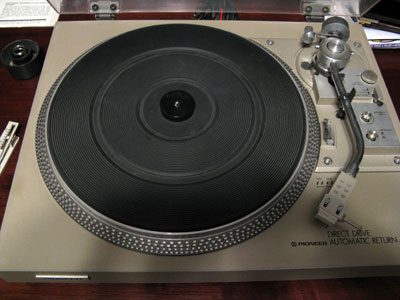 He also was eager to get rid of vinyl (about a pile of 30 LPs and 200 45s), so I was happy to help lighten his load. For $80, I took the turntable and these records:
LPs
The Beatles: Meet the Beatles!
The Beatles: Sgt. Peppers Lonely Hearts Club Band
45s
The Rolling Stones: (I Can't Get No) Satisfaction b/w The Under Assistant West Coast Promotion Man
Prince: Delirious b/w Horny Toad (picture sleeve)
Prince: U Got the Look b/w Housequake (picture sleeve)
Ritchie Valens: Donna b/w La Bamba
Quiet Riot: Cum on Feel the Noize b/w Run for Cover