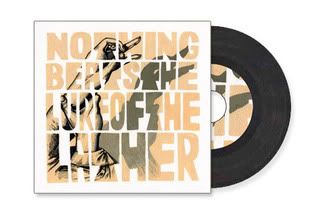 In the two-plus years of doing this blog, rare are the times I have received records (the vinyl ones) in the mail; I'd guess about three or four times at the max. (
This
was my favorite for sure.)
So you can imagine my surprise at the very flat package in the mailbox the other day that contained a 7″ record, the first in a series to be given away by The Fader in conjunction with Southern Comfort (kids, drink responsibly; ahem, I'll take my free bottle now). Apparently, only 500 of each 7″ will be pressed, and they decided to send one to me. Oh, joy.
The first record has My Morning Jacket's Jim James joining M. Ward for Magic Trick (Kansas City Remix) on the A-side; the original version is on M. Ward's Post-War. The B-side is Ladyhawk's Soap.
I had converted Magic Trick to mp3 for Heather, though I'm not sure if she's posting or not. So I'll take the opportunity to do it here. The link where you can find info to enter to win the 7″ was broken when I wrote this. So you may have to contact the Fader about that.
M. Ward feat. Jim James | Magic Trick (Kansas City Remix)