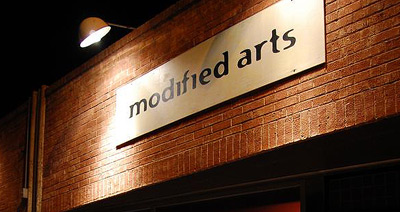 Modified Arts, an all-ages venue in downtown Phoenix that has been a staple of the local music scene and a vital venue for touring indie bands for nearly 11 years, will change direction and transform into a space focused mostly on art. (Read more here and here.)
As such, I am collecting thoughts and memories from the musicians who played there and the fans who attended its many shows. This is less an obituary and more a celebration of a less-than-perfect but charming venue that, as we know it now, will be missed.
This entry comes from longtime Valley drummer Scott Hessel, who currently keeps time for Source Victoria and Let Go and used to drum for Gloritone (among others), once making a name for himself (and the band) with a fairly shocking 2001 appearance on the Howard Stern Show.
When Let Go (ex-Stereo, Pollen, Gloritone) returned from a tour that lasted several weeks in the dead of summer, we were scheduled to play at Modified.
We were dog tired, cranky, and ready for quality time in our own beds. Instead, we rolled into Modified for a sort-of-homecoming show. Because I had never played there, it felt like we were on the last stop in a foreign city.
In sports, some of the best individual performances have been achieved by athletes who were sick or fatigued. Sometimes, the same can hold true for musicians. This was one of those nights for me and the dudes in my band.
This picture illustrates the aftermath of a very memorable, sweaty night at Modified.
(Left to right: Chris Serafini, Jamie Woolford, Scott Hessel.)