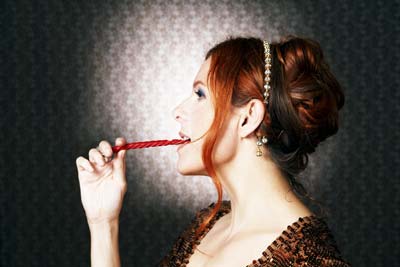 In honor of the one-year anniversary of its blog, Anti- is offering a free download of Middle Cyclone, the title track from Neko Case's amazing new album (due out on Tuesday).
Previously, Neko (yep, we're on a first-name basis) offered up People Got a Lotta Nerve, which helped benefit Best Friends Animal Society.
On Middle Cyclone, Neko sings beautifully over an acoustic guitar and the intermittent loop of what sounds like a child's toy (a jack in the box perhaps?). "Can't give up acting tough / it's all that I'm made of." Also, it's a great excuse to run a picture of Neko eating a red rope piece of licorice.