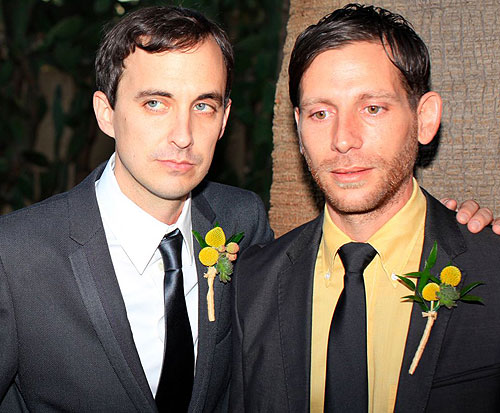 I think I speak for Reubens Accomplice fans everywhere when I say this: Finally.
A new album by the beloved Phoenix band, which would be its first since 2004's The Bull, the Balloon, and the Family, has become a bit like our very own sasquatch – often discussed but never seen. We've been teased, agonizingly so at times. I had my own sighting (false, as it turns out), in 2006, of a possible album that even had a title, Mammal Music. Let me put 2006 in perspective for you: I gleaned this information from the band's Live Journal, which is just a rung below MySpace in the social media wasteland.
Speaking of MySpace, that might be where I first saw news, in 2009, that the band had released an EP and was taking pre-orders for the new album, titled Sons of Men. Three years later, there was something to it: Sons of Men actually is the name of the album, and it will be available this August. No, really. A mural was painted in downtown Phoenix to promote the album with the words: "Available August 2012." I saw it with my own two eyes. That's about as close to etched in stone as there is. No turning back now, dudes.
But seriously: I tease because I love. Life tends to get in the way of these things. I don't have the faintest idea of what Chris Corak and Jeff Bufano – the band's two principal members – had to go through to get to this point. But I hope to find out more in the coming weeks. I can tell you that Grammy-winning producer/engineer/mixer Chris Testa, who has worked with several locals in the past (Jimmy Eat World, Source Victoria, Kinch, Courtney Marie Andrews), is adding this one to his extensive credits.
Corak also kindly (and quickly) responded to an email to give me some other tidbits, including the track listing (below) and that guest musicians on the record include pedal-steel king Jon Rauhouse (a member of Neko Case's band), Matt Maher and Promise Ring/Maritime singer Davey von Bohlen, who sings the choruses on "I Love You, But I'm Tired."
What we also know is this: Sons of Men (that's the cover art above; click to expand) will be available in August, with a show at Crescent Ballroom on Aug. 10 serving as the album release party. (They are playing shows on Aug. 11 and 12 in California with the Promise Ring.) "Field Science" is the leadoff track on the album, and it's featured here in the time-lapse video that shows the creation of the aforementioned mural.
Getting the feeling this is going to be worth the wait.
Sons of Men track listing:
1. Field Science
2. This Desert
3. I Love You, but I'm Tired
4. I'm Leaving
5. The Losing Curse
6. Sons of Men
7. Memory Works
8. No Motion
9. Women
10. Less Pain Forever