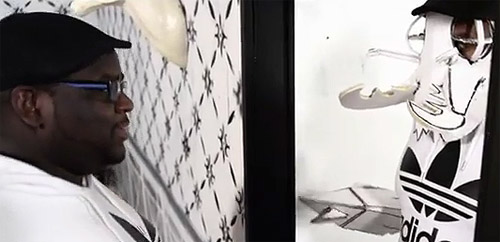 Leave it to a former teacher to base a song/video on a literary classic. Phoenix rapper Random (aka MegaRan) left the classroom behind to make the full-time jump into music, but he can't quite seem to shake the teaching, uh, bug.
Of course, this is the man who earlier this year released an album called Language Arts: Volume One, part of a conceptual multimedia project that was funded by a ridiculously successful Kickstarter campaign.
And that's the album that brought us "Buggin' (The Metamorphosis)," inspired by the Franz Kafka novella. The new video (directed by Max Isaacson) finds Ran playing the role of Gregor, waking up to find himself transformed into a vermin. High school English class was never this fun.
And while you're catching up with Language Arts: Volume One, Random went ahead and dropped Volume Two today. A harder-working rapper would be impossible to find. That said, our TeacherRapperHero is returning home from tour and throwing a show on Saturday at Hidden House.
Below is "Super Move," an iTunes bonus track off LA: Volume Two featuring some of my favorite emcees (Has-Lo, Open Mike Eagle and Zilla Rocca).