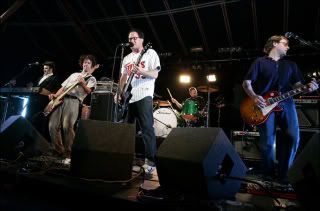 Jason Woodbury returns! He'll keep writing as long as I keep promising him beer. His band, Hands on Fire, opens the Vivian Girls/Ariel Pink show on Monday at Modified. You should go.
Live albums are a tricky thing. All my favorites are either very genre specific (Donny Hathaway Live, Sam Cooke at the Copa, Otis Redding – Live in Europe), or so studio doctored they they don't really count. Needless to say, live albums so rarely live up to their expectation: to deliver in recorded form the energy and spirit of a live show.
The Hold Steady has a reputation as being a stellar live act, and they are. I first saw them in 2005 at Modified Arts not long after they'd released my favorite album of theirs, Separation Sunday. Guitarist Tad Kubler dropped his brand new Les Paul, and singer/dynamo Craig Finn showered everyone up front with saliva. The show was incredible, and each subsequent show I've seen of theirs (in bigger and bigger venues) has been, too.
Vagrant Records has just released A Positive Rage, the Steady's first live album, documenting their successful jaunt hot off the release of their critically lauded Boys and Girls in America. The album is fine, but, as often is the nature of the beast, fails to encapsulate what makes the band such a joyful presence live. However, it's especially nice to hear the band rock some oldies from their early days (Barfruit Blues) and one of their best songs, Ask Her for Adderall, which inexplicably got relegated to bonus-track status on their 2008 record Stay Positive. The album comes packed with great liner notes by Finn and includes an enjoyable, if totally congratulatory, DVD documenting the tour. It's certainly a blast for Hold Steady fans, and might serve as a nice introduction to their live show, but the only way to really experience these guys is to go out to a gig, get sloppy drunk and sing a long like you're in church.