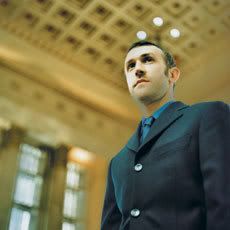 A year after laying the groundwork as DJ/producer for albums by Aceyalone (Magnificent City) and Soul Position (Things Go Better with RJ and Al), RJD2 gets a little me-time in on his upcoming solo LP The Third Hand, his first release for XL Recordings (due out March 6March 5).
I've yet to hear the record in full (it's illegal and stuff to download albums prior to their release dates, you know), but it's been told through this here series of tubes that RJ sings on this album. It's a fact I approach with trepidation and curiosity. Marathonpacks already waxed elegantly on the subject, cringing a bit at RJ's "sometimes elitist suburban soul lyrics."
In a way, I feel the same dread as I did with DJ Shadow's lastest, The Outsider, which took a sharp turn from his Endtroducing soundscapes. Bravo for open-minded experimentation? Or please stick with what has worked best? My guess is, creative types deal with this struggle constantly. No doubt, RJ will gain some detractors, but it's also likely he'll earn new followers who appreciate this whole singing thing.
I'm not writing anything off yet. But it's probably no surprise that of the available tracks, I was drawn to Get It, an instrumental track with a wicked ride cymbal rhythm and some well-played organ work.
RJ will be at the Clubhouse in Tempe on May 12 with Pigeon John (all dates).
Related:
Soul Position pics.
10 questions (via e-mail) with RJD2.
Soul Position on KEXP.