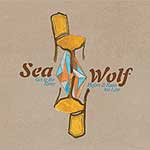 I know Picasso has been all over Sea Wolf from the get-go, leaving me – yet again – woefully behind the curve.
Another "wolf" band name notwithstanding, Sea Wolf's Get to the River Before It Runs Too Low EP is magnificent. Most notably, the EP's opener, You're a Wolf, has captivated me – the hypnotic opening guitar lines, the way the strings melt over the arrangement, Alex Brown Church's repetitive/catchy singing of the song's verses. Then dig the third verse – about that damn gypsy woman – when the snare drum becomes more pronounced and the cello bounces back and forth.
The rich instrumentation never allows Church to wither into an acoustic singer-songwriter cliche. Production by Phil Ek (Built to Spill, Band of Horses) doesn't hurt. Only one problem: You're a Wolf is so good at track No. 1, the rest of the EP is getting unfairly ignored.
Buy Get to the River … at Dangerbird Records.
SPEAKING OF Dangerbird bands (segue!), I've posted a Silversun Pickups B-side, Mercury, over at Circa 45.