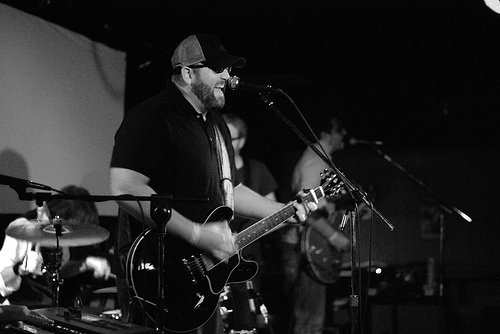 Would you ever consider a cover as a song-of-the-year contender? I did for a serious moment on Sunday.
Since seeing Source Victoria perform Slowburner, a standout track by now-defunct Phoenix band Traindead, about 10 days ago – with guest appearances by members of Traindead, no less – I haven't been able to put down the song, to which I'd already given heavy rotation since its release on the When in AZ benefit compilation earlier this fall. (Disclosure: Source Victoria is my brother's band, but at some point – and that point has passed – my brother's band stops being "my brother's band" and becomes like any band I admire whose music deserves praise, bloodlines or no.)
Though cover songs typically do little to excite me – haven't we had our fill of soulless rehashes and ironic gimmicks? – a great one can morph into something of its own, turning the original inside out while still paying proper homage to it. That Source Victoria picked Slowburner in the first place for the compilation, which features Phoenix-area bands covering each other, says something about the respect they have for Traindead. But nobody wants to hear one band ape another. Where's the imagination in that?
Source Victoria wisely grasps that concept. Where Traindead's original is a buzzsaw of tension and fuzz, Source Victoria lets the air out, guiding a "slacker anthem" of distorted greatness into a deliberate, wide-open space, completely reimagining the whole thing. It's like two absolutely different songs that just happen to have the same lyrics. (For the record, Taylor, who opened the aforementioned show with a solo set, and Chad of Traindead came up to sing on the "la-la-las" at the end of the track. Sadly, a request for a Traindead reunion and a brief set was rebuffed.)