A couple weeks after telling us about Towncraft, Jason Woodbury checks in again with some insight on another Phoenix musician. Check out Jason in Cardiac Party and Hands on Fire.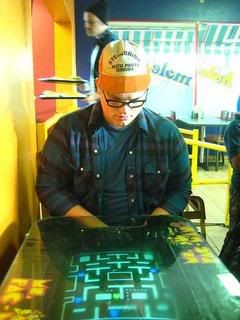 Ugly Unknowns, the new album from Stephen Steinbrink and the first released under his given name, is now available from Tempe, Ariz.-based Gilgongo Records. If you aren't familiar with Steinbrink's work, now is a perfect time to get acquainted with his low-fi bedroom pop. While he's put out a ton of releases in varying formats over the past few years, his 2008 full-length French Quarter garnered some pretty serious press: hard-earned praise from Doug Mosurock at Dusted Magazine in his "Still Single" feature, a glowing review over at Coke Machine Glow and even a sanctimonious write-up from Thurston Moore (!) and Byron Coley in Arthur Magazine.
While the term "singer/songwriter" usually calls to mind polished production and boring presentation, Steinbrink's work is far more varied, often balancing out biting lyrics with gorgeous harmonies and lively, Built to Spill-like arrangements. Ugly Unknowns finds Steinbrink expanding his range ever further; the intertwining guitar work bares the influence of former tourmates and local stunners My Feral Kin, and tracks like Overpassing reveal a shared heritage with Neil Young & Crazy Horse.
Steinbrink with be performing at Modified with Anni Rossi tonight (Feb. 9); at the Trunk Space with Jason Anderson on Feb. 18; and will do a live on-air interview and set on the Basement, on the Blaze 1260 AM on March 1.