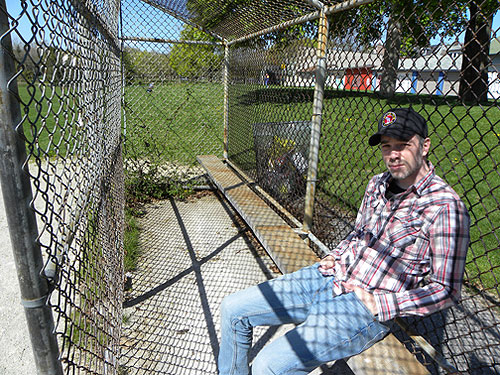 The fourth installment of 110 Percent, a series in which I talk to musicians about sports, features Canadian MC Buck 65 (born Richard Terfry), who's playing a rescheduled date at Chaser's in Scottsdale on Feb. 24 in support of his 2011 release 20 Odd Years, a title that reflects his lengthy music career.
But Buck 65 nearly spent his life pursuing his first love: baseball. Injuries derailed a possible pro career, and Buck was cool enough to hold a lengthy chat with me (through a dying phone) about that, his song about Blue Jays slugger Jose Bautista and life as a hard-core baseball nerd.
So, you're a Blue Jays fan, right?
Well, no. … I live in Toronto and it's the team I'm exposed to the most. I kind of follow them by default. When I was growing up (in Nova Scotia), I definitely was an Expos fan. They would have been closer geographically to where I was growing up. They also had some great and exciting teams.
Where I grew up, you were either a Red Sox fan or an Expos fan. I don't think you could be both. I grew up hating the Red Sox and always loving the Expos and not really being much of a Blue Jays fan, even though by the mid-'80s it became more rewarding to be Blue Jays fan because they actually started to win divisions.
I always, and to this day, follow really closely everything around the league. I take interest in individual story threads that develop during the season and follow my favorite players as they get traded. I've become a big fan of the Reds because a bunch of players that I like or became invested in ended up landing there.
Who are some of your favorites?
Brandon Phillips. I think he started his career in Expos organization (drafted by Montreal in 1999). A couple years ago Orlando Cabrera was playing shortstop there, and he used to be in the Expos organization. I've always been a big Scott Rolen fan. For my money — and I wasn't around to see Brooks Robinson play third — but Rolen's the best I've ever seen in person.
Of course, you've got Canadian superstar Joey Votto playing first. And I've always been a big Jonny Gomes fan. He's such a fun player to watch and seems like such a maniac on the field. Of all the crazy batter's box routines we've seen through the year, like Nomar Garciaparra, I just think Jonny Gomes takes the cake. I really like his whole backstory.
How many games do you get to each season?
I would say that if Toronto is at home I go down twice a week, if I'm around. You stretch that out for a season, figuring about 80 home games, I probably go to 30 or 40. The ushers know who I am.
You're not the infamous "man in the white shirt" stealing signs, are you?
(Laughs.) No, it's not me. Whoever that guy is is sitting in some pretty crappy seats. I try to get better seats than that through one scam or another.
That was such a weird story. It's really hard to be a Blue Jays fan because, first of all, they're stuck in American League East, where you're perennially going to be dealing with Boston and New York. It's a long time ago that I remember either of those teams being totally lousy. Now you have the Rays having shaped up in these last few years as kind of a powerhouse. I think the last four seasons in a row the Blue Jays have finished in fourth place. They've never had chance in hell, and still they just get picked on with every little thing. Whether it's Jose Bautista getting a hard time over everything or stealing signs and God knows what else. … It's really tough and frustrating when you already feel so bullied in first place by other teams, but then they're getting it from all angles.
Speaking of Jose Bautista, you put out the song "Joey Bats" last year, right?
Yeah. Jose Bautista mania seemed to be at its peak. Granted it was pretty exciting. When you have so little to be excited about here, when a real superstar like that comes along, sometimes that's reason enough to see games. There's been a few moments in circumstances where he came through and hit some monstrous home run, and it's unbelievably thrilling. Even if team loses 8-2 but he hits a 450-foot homer run off some team's ace, you can walk away saying, "That was amazing."
Just plain and simple I was feeling kind of inspired by this one small thing that was giving me some joy in my life. Right around that time I had been complaining to my wife how this thing — this pastime I had devoted my entire life to — had given me more agony than joy. How do I do something about this? I guess it was part of that effort. The more I've had a chance to see the guy play and hear stories about him, the more impressed I am. I guess I was in a mood to just write a song that was really simple. It's just right there on the surface. You don't have to guess. I wanted to write a song that is very clearly about something, and bam, there it is.
So many sports songs can come off as sort of kitschy or corny. Is it difficult to write one that doesn't have that vibe?
To be honest, not really. I've made the same observation, and I don't really know what the problem is and why that has been so difficult for so many people. First of all, there was something very specific musically that I wanted to try to establish, a tone that I was going for and a certain amount of aggression. Beyond that, I guess the problem with a lot of them is they're too earnest or take themselves too seriously. It's a tenuous smarriage at best, trying to marry sports and art — it's super tricky to do. So the more serious you take yourself, the more likely you are to blow it and do something terribly embarrassing. I had fun with it and allowed it to be as cartoonish as it needed to be. I wasn't gonna make some seminal folk ballad.
Do you have any idea if the Blue Jays or Bautista are aware of the song?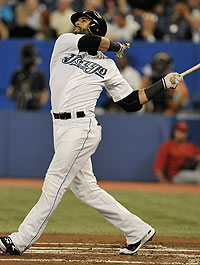 I don't really know. I didn't think about that. I wasn't thinking, "Here's a great way for me to find this audience." But once it was done, I kinda stepped back and thought, "Wouldn't it be amazing if even Jose himself became aware that it existed?" I'm unabashedly a dork when it comes to my baseball fandom, so I'm not above that.
I know it kind of fell into hands of baseball writers around this town. I thought that was a step in the right direction. … One day I walking home after a game and waiting at a light and this guy approached me and said, "Hey, you're Buck 65." He explained that he was the guy putting Blue Jays promo videos together. I said, "I just made this song about Jose Bautista … I'll send it to you." Here's a guy who's on the inside. I sent it to him and didn't really hear anything. I still haven't received any definitive word that may have happened, which in a way seems hard to believe because I know it's circulated. If I had to guess, someone must know, but nobody has indicated it to me.
You were a player yourself, right?
When I was a kid, I was super serious about it. I was determined to make the big leagues. The opportunities just didn't exist. There was little organized baseball, let alone attention, where I grew up. I grew up not far from where Matt Stairs is from. I played against him once as a kid. But there was just nothing and nobody paying attention. One year there was this camp organized where there'd be a bunch of college coaches and scouts wandering around. There was this guy, Stan Sanders. He worked in a bunch of different capacities throughout his career. He had a World Series ring for the year he was a coach with the Yankees. He scouted for them. His claim to fame was that he scouted Mike Schmidt.
So I went to this camp for a few years working hard to impress this guy. I had some injury that was holding me back. But when I was 16 and healthy, I just went bananas, working hard to get his attention. He gave me this speech, "You're gonna go real far, but you gotta finish high school first." I still had a year to go. In that time in between, he had a heart attack. When camp came, he wasn't around my last year. That was my ticket. After that, I'm thinking, "What the hell am I gonna do?" It's not like I had other opportunities waiting. So I was determined. The only thing I thought to do was work quadruple hard, but I had real lousy coaches. The combination of that and pushing myself too hard blew out my shoulder and knee. It felt to me like the ship had kind of sailed. I had this one golden opportunity. Not a day goes by that I don't think about that. He (Sanders) had told me in no uncertain terms … "I wouldn't be wasting my time in the middle of butt-fuck nowhere if I didn't think you're gonna be superstar."
I was confident enough that I really believed it. I still do, too. … I know this sounds absurd, but I feel like I know I could have had a great career. It's often felt in my life like the thing I was meant to do. It was the only thing that came at all naturally to me. Music has never been a natural fit. It's been a real source of heartbreak for, well, half my life.
How would you describe yourself in your playing days?
I played shortstop. I had a very strong arm, which is why it ended up being blown out by my coaches. They tried to make me pitch because I was the one kid that could throw 90 mph. I really prided myself on defense and worked really hard on that but could also hit with power. When I was 16, I guess that toward the end of the '80s, that idea of the power-hitting shortstop was kind of a novel idea. It wasn't the position it's become now where usually a shortstop is a good hitter and often someone that can hit with some power. I fit that new mold that was beginning to develop. I could hit with power. I hit a lot of doubles. I usually hit for a pretty good average as well. I was "toolsy," as they say. I could run with decent speed. I would never set any stolen-base records, but I could swipe a few. I think that's what the Stan guy liked, that I played the position well.
I still work super hard and practice all the time. It's important to keep my arm in shape and swing and to be able to hit well and everything. One of the items on my to-do list to get down to a game and weasel my way into batting practice.
You still play recreationally?
I do. I've been playing the last few years in a pretty easygoing league. I'm thinking this summer I might play in league a little more competitive.
Check the baseball-themed video for Buck's song "463" below: