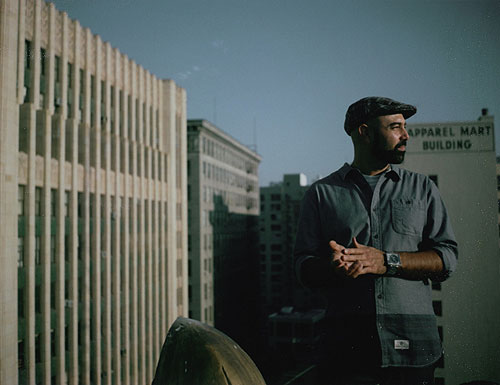 I'll forever have love for Jurassic 5, so even six years after the L.A. hip-hop idols broke up, curiosity pulled me back in (and now they're on the comeback trail at Coachella). That's a good thing. I might have otherwise overlooked this new single from Nu-Mark, one of J5's two DJs (along with the esteemed Cut Chemist).
Nu-Mark released his debut full-length Broken Sunlight, and he's been releasing songs as a series of 10-inch records over the past year or so. It's an innovative method, but what do you expect from a guy that can rock toy instruments in a live set?
I've said it before, but one of my favorite live moments was seeing Z-Trip, Radar, Cut Chemist and Nu-Mark perform on an otherwise quiet Sunday night in Tempe at a bar called Mustang Sally's in a secret-style show one day after J5 played the Nile Theater. I still can't even believe I saw that. Much as I bemoan the constant smartphone recording of shows these days, I'd kill for some footage of that night now.
But back to Nu-Mark … the most recent release in the Broken Sunlight series, Don't Play Around, is pure soul, showcasing the amazing vocals of Aloe Blacc and Charles Bradley over one bad-ass beat. Can the drummer get some?
Says Nu-Mark at Rolling Stone: "I did a lot of vocal experimentation for Broken Sunlight. Charles Bradley and Aloe Blacc were a perfect fit, capturing the raw heartache of best friends dating the same women."