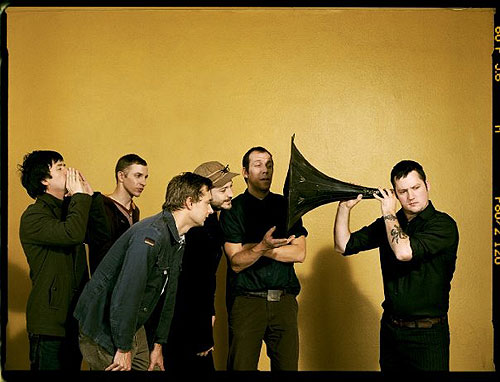 Modest Mouse has an impressive track record of consistently keeping Arizona on its tour itineraries. At least since playing Boston's in 1998 – and mostly likely even before that – Isaac Brock's band has been a regular in the desert.
Since 2000, Charlie Levy at Stateside Presents has booked Modest Mouse at least seven times: twice at the old Nita's Hideaway ( in in 2000 and 2001); once at the new Nita's; twice at Mesa Amphitheatre; once at Celebrity Theatre; and, most recently (in 2009), at Marquee Theatre.
And with Modest Mouse playing the first day of both weekends at Coachella this year, it makes perfect sense to return. This time, Levy brings the band to his own venue, Crescent Ballrom, on April 14. The show will be outdoors, behind Crescent, which will allow for a capacity of 2,000, according to Levy, who used an outside stage for the first time in August for the Los Dias de la Crescent event. (The band is also playing Rialto Theatre in Tucson on April 13.)
(UPDATE: Here's a video of Los Dias de la Crescent if you want to get idea of how the outside setup functions. The stage faces the venue with its back to Third Avenue.)
Presumably, Modest Mouse will have a new album out soon (featuring Big Boi?). But if you're unfamiliar with the band's catalog (what's wrong with you?), I suggest watching this documentary on the 1997 album The Lonesome Crowded West. And then immerse yourself in the 2000 classic The Moon & Antarctica, an album that helped carry me through sometimes lonely and uncertain times in my first two years out of college in Lubbock, Texas. It's certainly in my top 3 albums of the 2000s, if not in my top 10 favorites of all-time.
Tickets ($35-$40) for the April 14 show go on sale Friday (Feb. 22) at 10 a.m.
Below you will find footage of Modest Mouse's soundcheck and performance at the Nita's Hideaway show in 2000 interspersed with some B-roll of Arizona, via Nicole Nelch. Very awesome stuff. And as Nelch points out, the show happened on the same night as one of DJ Z-Trip's weeklies at Nita's. I'm so grateful for footage like this at a time when documenting wasn't as simple as reaching into your pocket.