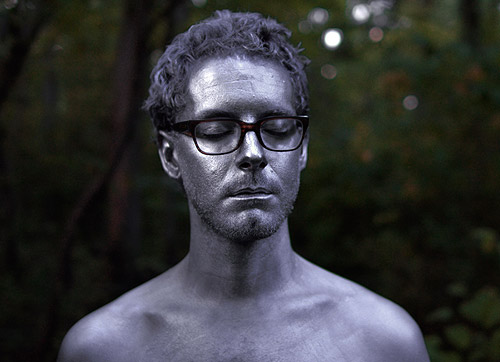 Eric, who discussed Toro y Moi in his last post, is back for more, this time discussing War on Drugs bassist Dave Hartley's solo project called Nightlands.
One album I've really been getting into these days is Nightlands' sophomore release, Oak Island. Nightlands is a band I've only just become familiar with in a sort of Six Degrees of Separation (or Kevin Bacon) sense. I'm a big fan of Philly low-fi singer/guitarist Kurt Vile, who is, along with Adam Granduciel, one of the founding members of The War on Drugs. These days, Kurt Vile plays solo, but Granduciel is the guitarist for Vile's band and the frontman for The War on Drugs. Nightlands is the side project of The War on Drugs bassist Dave Hartley. Got it?
Hartley seems like quite the multi-faceted musician, which is always intriguing to me. Sure, he plays in multiple bands, but that's not that uncommon, at least within the confines of the indie-rock world. A rabid fan of the 76ers and the NBA in general, he also moonlights as a basketball writer for two different websites: Top of the Key for Philly music blog The Key, and Death Dunk for Impose Magazine. As someone who DVRs as much NBA TV as primetime television, I really appreciate both his love for his team and the honesty with which he assesses it. I also like that he's got a special affinity for not only the star players, but also the blue-collar role players. The "lunch pail" guys. The Todd MacCullochs of the world. The Matt Bonners. The Paul Shirleys. I've always been someone who loves talking and reminiscing about the random minutiae of sports, and Hartley really nails that in his posts.
He's also a hardcore sci-fi "enthusiast" (notice I went PC in favor of the more pejorative "nerd-burger"). You could be quite literal in describing Nightlands' work thus far as either "spacey" or "dreamy." Spacey in the sense that his his passion for sci-fi certainly pretty obviously finds his way onto Oak Island, which Pitchfork accurately described as "a big-concept, low-budget rendering of the space age sound redolent of any of the movies that came out as an immediate result of Star Wars." It's dreamy in the sense that he apparently wrote his debut album, Forget the Mantra, by putting a tape recorder next to his bed in an effort to gather musical ideas conceived mid-slumber.
Both of these qualities are on display in the video for the first single, "I Fell in Love With a Feeling," a quick blend of strummy guitar and horns that reminds me a lot of Destroyer's last album (certainly not a bad thing in my view), and Hartley's voice morphed into a sort of one-man robot chorus.
My first instinct was to try to view Nightlands through a War on Drugs-colored lens, but that's pretty immediately ruled out as an option as I began to listen to Oak Island. One project seems to have little, if anything to do with another, which is pretty perfect for a multi-instrumentalist/basketball blogger/sci-fi fan – a guy who's clearly his own person and would seem to hate being or doing what you'd expect.