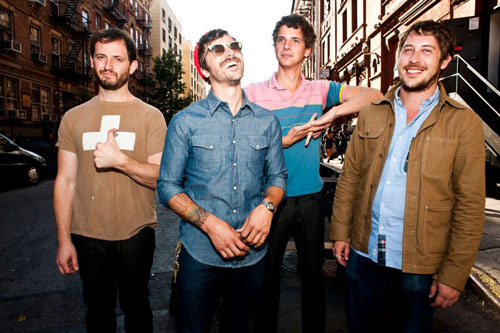 I'm still taking inventory on 2011, though I'm not committed to posting a year-end favorite albums list – something I also didn't do last year, and at this point, does anybody really care?
I think it's fair to say that Portugal. The Man's In The Mountain In The Cloud would land in my mythical Top 10, an album that I came to late in the year (despite its mid-summer release) and dominated my listening habits in the final months of '11. In no time at all, as if by osmosis, I would hear my wife humming Portugal tunes out of nowhere.
In truth, I had listened to In the Mountain not long after it was released. But like so many albums, I first spun it while I was working and it was doomed to fade into the background lest it fracture my focus. Then the band played the song "So American" on Conan in September, and it wasn't long before I hopped back on the wagon.
I loved the 2007 album Church Mouth, so it wasn't a stretch to think I'd like this one. Turns out, I really liked it. "So American" ended up on the year-end mix CD I make – a post on that process soon, I think – and it's one of the songs that's generated a lot of positive feedback from friends.
I'd never stopped to think about the Elton John-like influence on this song (and most of the album) until my wife said something (she's really the one who should be blogging here). And it's a comment that's been repeated a couple times by friends.
So in the better-late-than-never department, here's the video (released in October) for "So American," with the guys in the band flaunting their pale bods (to be fair, they are from Alaska) bro-ing down at the beach and a campfire.
Coincidentally enough, after typing out this post on Sunday night, the band announced dates Monday morning for the Jagermeister Music Tour, including an April 6 stop at Crescent Ballroom. A limited number of tickets, with waived fees in some cases, can be purchased through the band here.
And here they are performing an acoustic version of the song: