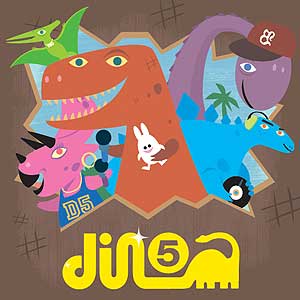 I've always thought that if I were to introduce hip-hop to my three nieces, that it would probably consist of a supergroup of Prince Paul, Chali 2na, Ladybug Mecca, Scratch and Wordsworth, and they would probably take on the personas of animated dinosaurs, and … oh, what? This already exists?
Yes, yes it does. They're called the Dino-5. And, honestly, I don't know what to make of it, either. It's part of the Baby Loves Music series that is geared toward, yeah, babies. But with a lineup like that, how can adults resist?
So these five have gotten together to "tell the story of prehistoric hip-hop." Prince Paul is DJ Steogosaurus; Chali 2na is MC T-Rex; Ladybug is Tracy Triceratops; Scratch (from the Roots) is TEO Pterodactyl and Wordsworth is Billy Brontosaurus. Sounds cheesy, I know. But, come on … how else are you gonna break your kids into this? And at this point, I'll take anything from Ladybug (what's with that Digable Planets reunion already?).
Look for an album from the Dino-5 this spring. In the meantime, their theme song is below.