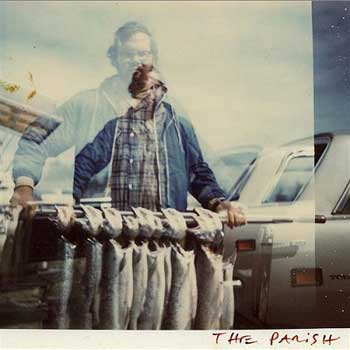 Thanks again to Hunter at Macktronic and Gold Robot Records for (a) sending me vinyl (always welcome) and (b) introducing me to another great Bay Area band in the Parish.
The latest goodie from Gold Robot – the label's fourth 7-inch release – is the four-song Storm Driven Bird EP from the Parish. The group is led by husband-wife tandem of Zac and Kim Stanley, but they brought in a full band for this EP, including Graham Hill (aka Roman Ruins) on drums.
I want to say, upon my first few listens, that the Parish sounds something like a cross between Magnolia Electric Co. and and some of the more Southern-influenced '70s rock. I may be totally off base. But I do know it's nothing like Gold Robot's previous two releases from Meanest Man Contest and Panther. Hunter appears to be building a wonderfully diverse catalog.
Check out Dummy in Trouble, a track that follows a catchy organ line into a wash of guitars and cymbals and (my favorite) pedal-steel guitar.
As an added bonus, if you buy the (yellow!) vinyl, you receive a coupon with a code for digital downloads.
The Parish | Dummy in Trouble
WHILE YOU'RE AT IT, visiting Gold Robot, check out Quarterbar (one-half of Meanest Man Contest) remixing all of Panther's Secret Lawns LP into one track.