Anti sent out a release about Tim Fite's upcoming release, Fair Ain't Fair (more below), which gave me good reason to poke around his MySpace page.
Lo and behold, Fite is offering a download of Out on the Line, a B-side to a 7-inch released in the UK that I actually found at Academy Records in Brooklyn in September for $2. (white vinyl; A-side is No Good Here [mp3].)
Small detail: On the 7-inch, the song is called On the Line; Fite lists it as Out on the Line on his MySpace page. Either way, it's a downer of an acoustic track, a bit out of the ordinary for the eccentric Fite (remember his I Used to Love H.E.R. entry?).
Tim Fite | Out on the Line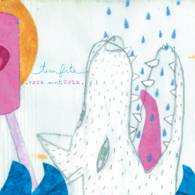 As for that new record, Fair Ain't Fair – the proper follow-up to 2005's Gone Ain't Gone – is due out May 6. Fite earned plenty of praise for his free 2007 album Over the Counter Culture (previous post), a send-up of/commentary on commercial rap culture. (You can download it here.) So it's not like we haven't heard from the man in three years.
Tracklisting for Fair Ain't Fair:
1. Roots Of A Tree.
2. Trouble.
3. The Barber.
4. Big Mistake.
5. Inside Man.
6. Rats And Rags.
7. Yesterday's Garden.
8. Thought I Was A Gun.
9. The Names Of All The Animals.
10. Motorcade.
11. More Clothes.
12. Harriet Tubman.
13. My Hands.
14. Heaven Is War.
15. Sing Along.
16. Line By Line.