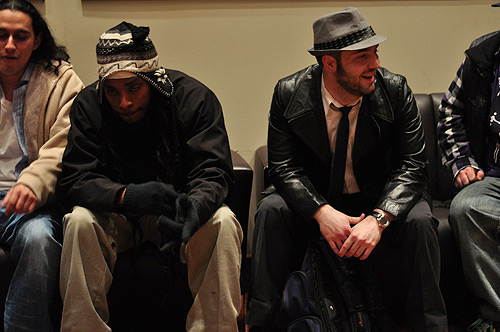 We are but one day away from a big night at the Hidden House with Nocando, Open Mike Eagle and 5 O'Clock Shadowboxers, and I couldn't be more amped.
Speaking strictly as a fan, I can't think of a lineup that better represents the hip-hop I've spent a majority of time listening to for the past year. And at the rate these guys move, 2011 will be an even bigger year. Nocando is working on a project with Busdriver (Flash Bang Grenada), a mixtape and a new full-length (check the interview at azcentral.com) and Open Mike Eagle is preparing to release his second full-length, Rappers Will Die of Natural Causes (he talked to the New Times).
And then there's 5 O'Clock Shadowboxers, who are prepping a follow-up to The Slow Twilight in between solo projects from Zilla Rocca (Bad Weather Classic EP) and Curly Castro (Winston's Appeal FTW), not to mention the collaborative Wu-Tang Pulp album.
They recently found time to drop by Philly NPR affiliate WXPN for an in-studio session for The Key, which should offer a good idea of what to expect on Friday.
Grab a couple of the tracks from the session below or download all right here.
The stylish Philly duo of Zilla Rocca and Curly Castro present their music so hardboiled and sandpaper-rough it cuts to the bone.
Peep the Shadowboxers from their last performance at the Hidden House in September: