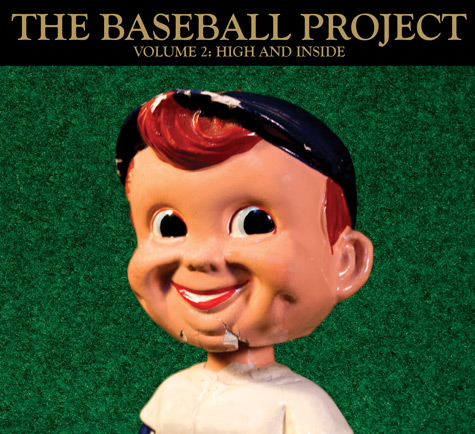 After releasing their second album, Volume 2: High and Inside (Yep Roc), on March 1, The Baseball Project will embark on one of the more brilliant (if not obvious) tour runs. The band – Steve Wynn, Scott McCaughey, Peter Buck and Linda Pitmon – will wind its way to Arizona, where it will play seven shows over the course of six days, including stops at five Spring Training games. Now that's some clever tour routing.
Their stay in Arizona does involve a proper club gig on March 25 at Martini Ranch. Tickets ($10) for the all-ages show are available here.
Like on its first album, Volume 1: Frozen Ropes and Dying Quails, The Baseball Project continues to mine the many stories of our nation's pastime for Vol. 2, which includes guest spots from Twins fan Craig Finn of the Hold Steady (Don't Call Them Twinkies) and Mariners fan Ben Gibbard of Death Cab for Cutie (Ichiro Goes to the Moon).
Until its release, you can check out Broadside Ballads, a nine-song project the band recorded in conjunction with ESPN to chronicle the 2010 season (including an ill-fated Cubs prediction).
Tour dates are below, as are a few tracks to stream from the new album:
3/11: Star Community Bar, Atlanta, GA
3/12: 40 Watt, Athens, GA
3/14: Manship Theater, Baton Rouge, LA
3/17-3/20: various SXSW appearances
3/22: White Sox vs. Mariners, Peoria, AZ
3/23: Dodgers vs. White Sox, Glendale, AZ
3/24: Indians vs. Giants, Scottsdale, AZ
3/25: Giants vs. Royals, Surprise, AZ
3/25: Martini Ranch, Scottsdale, AZ
3/26: Festival en el Barrio Viejo, Tucson, AZ
3/27: D-backs vs. Reds, Goodyear, AZ
3/30: The Casbah, San Diego, CA
3/31: The Echo, Los Angeles, CA
RELATED:
Q&A with Steve Wynn of The Baseball Project
The Baseball Project on Letterman
The Baseball Project: Past Time