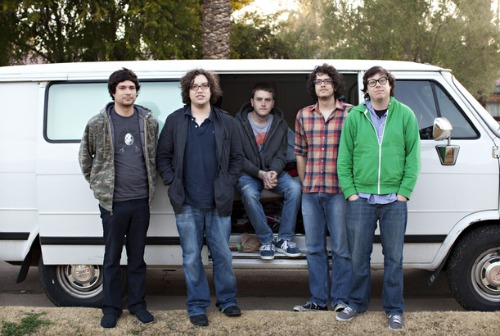 Phoenix band Kinch has an album done and I can only imagine that it must be burning a hole in their pocket. The Incandenza, the group's second full-length, is in the can and awaiting release, which, of course, is the tricky part.
Wisely, the guys aren't rushing into anything, instead building some momentum with last month's three-city residency plan and upcoming March gigs that include SXSW.
But Kinch couldn't keep a lid on the new material completely, and that's to our benefit. Thanks to a clever widget the band developed, you can not only grab the new song Once, I Was a Mainsail (for the cost of your e-mail address), but you can share it with friends via Twitter/Facebook/Cher/Shih Tzu/Stevie Nicks/mixtape/chocolate chip cookie/Stinkweeds/Skype show/postcard. I kid you not.
So, really, there's no reason for you not to share it (unless you were holding out for the carrier pigeon method). In Mainsail, singer Andrew Junker takes the listener on a bit of mythological (and metaphorical) journey of a mainsail set adrift by temptation. Musically, the song builds appropriately, a buoyant bass line carrying it to its screaming finale. More impressive, Junker somehow manages to wedge the word "archipelago" into the first verse, a colorful use of the language that grabs the imagination.
Grab the song below and catch Kinch on Saturday playing with Telekinesis at Sail Inn in Tempe.
Check out the video below of Kinch performing Mainsail last month at Silverlake Lounge in Los Angeles as part of its January residency there:
(Photo credit: Christine Valenzuela)