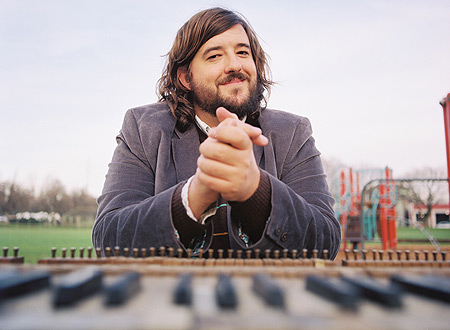 It's been almost four years since we've last heard from David Terry's solo project, known formally as Aqueduct. But Terry is out on the road for the next month with the Posies and Brendan Benson and getting ready to release a new album – the follow-up to 2007's Or Give Me Death – so the wheels of publicity are turning.
To work his way back into the indie-rock conscience, Terry has posted two new tracks as free downloads on his website. And both songs work as a primer for the Aqueduct beginner or as a nice reintroduction for longtime fans.
The first track is a cover of Bob Wills' Take Me Back to Tulsa, a 1940s Western swing tune about Terry's hometown. Only Terry takes the liberty of framing his version of the song around a slowed-down sample of Jay-Z's Big Pimpin', a fun marriage that shows Terry's irreverent side.
Then there's Past the Point, a track that keeps up the bittersweet breakup theme from Or Give Me Death. Here, Terry anguishes over whether he should burn a photo of he and his ex: "We were together, but now forever the remains of us stay in this picture frame. I couldn't burn my most precious memories." Set against Terry's buoyant, synth-tinged pop, heartbreak never sounds all that depressing in his hands.