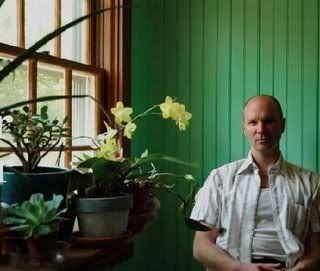 As 2007 begins – happy new year, by the way – I'm frantically digging into the depths of my e-mail inbox (deleting all along the way) to see what I missed in 2006. One name I swore I'd come back to was
Barton Carroll
, if only for his connection as a former member of
Crooked Fingers
, the band of
Eric Bachmann
, whose fabulous solo LP,
To the Races
, I stupidly forgot among my list of
favorites for 2006
. (Yeah, pretty sure that qualifies as a run-on sentence.)As the title of Carroll's record might suggest,
Love & War
(available on
eMusic
) considers the human element and emotions of war. Admittedly, you won't see me staging anti-war protests or being terribly vocal about it, but we're seeing a byproduct (unfortunately so) of these world events. Off the top of my head, I can think of Josh Ritter's
The Animal Years
, Michel Franti's
Yell Fire
, The Coup's
Pick a Bigger Weapon
and Neil Young's
Living With War
as thoughtful and meaningful ways of protest, and music's ability to teach another audience to take a stance.
Where Carroll's album fits, I'm not quite sure. But listen to Small Thing, a story about a young woman living in Berlin during Soviet occupation in 1945; it's based on a book co-written by his mother. It's hard not to feel engaged by a line like this:
"War sleeps deep in a man /
long after guns are gone /
he loses care for small things /
and I, I was a small thing."
Barton Carroll | Small Thing
Barton Carroll | Her Bright Smile Haunts Me Still