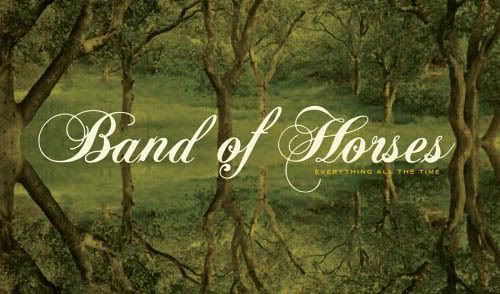 By the time I first saw Band of Horses this year in March, I only barely recognized their name and had little to no clue if going to that show, a last-minute decision, would even be worth it. Three live shows, a digital album and vinyl purchase later, Everything All the Time (Sub Pop) was pretty much a shoo-in as my favorite album this year.
I'm not sure I'd put it on the same pedestal as my pick from last year (The National's Alligator), but Band of Horses bring something so needed amid the disaffected and mopey masses of indie rock: a genuine affability. Their music is as approachable as the guys are likable. A live show only supports the point. Frontman Ben Bridwell's dude-man personality is charming and a welcome change from performers who take themselves too seriously.
Then there's the small matter of the album, which seems an honest reflection of the group's engaging attitude. Put simply, these are songs that are easy to like. They are not pretentious nor do they try too hard. In June, I wrote for Mars Needs Guitars that The Great Salt Lake had "a bit of grandeur in the sound." Really, the same could be said about the entire album. Comparisons to My Morning Jacket and the Shins make sense but shouldn't be taken too literally. Band of Horses strikes a balance between the Shins' fragile guitar tip-toeing and MMJ's cumbersome jamming.
When I'm sure The Funeral or The Great Salt Lake are the album's high points, Monsters makes me rethink it all. These are big, sprawling songs, but they never threaten to burden the album with an overwrought sense of self-importance.
It's very possible, and I'm no musician, that Everything All the Time is not a marvel of technical musicianship. But sincerity is the great equalizer. How does an album make you feel? Warm and welcome or distant and indifferent? I can't imagine feeling more invited and comfortable than I do when I listen to this album.
Ten more albums I also really enjoyed (in no particular order):