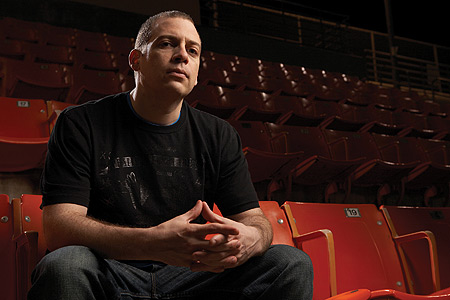 It was only a month ago that I posted a new remix by DJ Z-Trip, a reworking of The Dead Weather's Treat Me Like Your Mother. Well, I've already got another remix to share – but it might be the last one for a while from our DJ hero.
Just a day after I received Z-Trip's remix of the '70s disco hit Le Freak by Chic, the former Phoenix-based turntable titan broke his clavicle in a snowboarding wreck. Not sure how a busted collarbone will affect his work or how long it will sideline him, but as he said: "Super thankful it wasn't the wrist!" I mean, he's still able to tweet, so that's good news.
Here's hoping for a speedy recovery.
RELATED:
Z-Trip remixes The Dead Weather: Treat Me Like Your Mother
DJ Z-Trip on KCRW's Morning Becomes Eclectic
Z-Trip: Victory Lap – The Obama Mix (Pt. 2)
DJ Z-Trip: Obama mix (free download)
DJ Z-Trip and Aceyalone: Automatic at It (video)