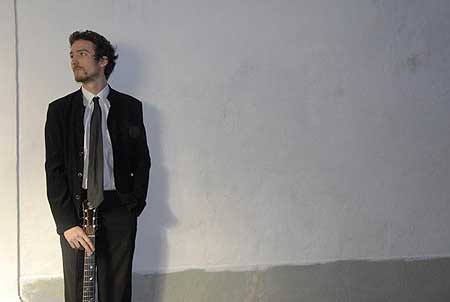 Credit: www.gregorynolan.com.
I can't believe that after seeing Frank Turner last March I haven't written about his EP, Campfire Punkrock. Good thing, then, that the physical CD just became available in the U.S. on Jan. 8 through Welcome Home Records. It gives me a good reason to strongly urge you to go out and buy it.
I hadn't heard of Frank Turner before that show in March, and it's safe to say he left a big impression. Campfire Punkrock gets regular rotation around here for its rowdy flair and drunken honesty. His thick English accent while singing and ability to, ahem, paint a picture in the span of three minutes draws the obvious comparisons to Billy Bragg. But it's hard to think of a better way to describe Turner than the three simple words he chose on his MySpace page: Folk / punk / country. And that about sums it up – a punk-rock star in the body of a folk singer.
What I said back in March still holds true: "What can you say about a guy with a Black Flag tattoo on his wrist and a Metallica sticker on his (acoustic) guitar? His words feel familiar and unpretentious – we all have our problems and Turner happens to write excellent songs about them."
One of my favorite tracks on Campfire is This Town Ain't Big Enough for the One of Me, one of the best kiss-off songs that the Onion AV Club overlooked. This is an anthem for anyone feeling stuck, running around in circles in a place they've outgrown: "I still want to be buried here, just like I said, but I'd prefer it if you'd wait until I'm actually dead."
Frank Turner | The Real Damage
Watch the video for The Real Damage.
Campfire Punkrock also is available at eMusic.