The eighth installment of I Used to Love H.E.R., a series in which artists/bloggers/writers discuss their most essential or favorite hip-hop albums (read intro), comes from Douglas Martin, a blogger who used to go by the name the Armchair Novelist and is now heading the folk/experimental act Fresh Cherries From Yakima (Web site / MySpace).
Douglas thoroughly deconstructs an early Wu-Tang solo classic, so much so that I had to invoke the "more" link to jump his contribution. That said, I strongly suggest taking in what he has to say about an album that, in no small part, influenced the modern game of "cocaine rap."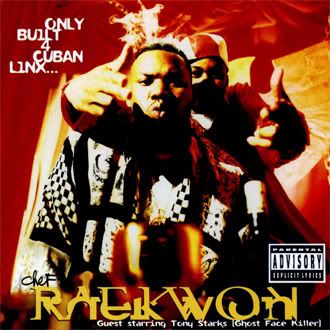 Raekwon
Only Built 4 Cuban Linx (Loud/RCA, 1995)
Note: Cassettes of this album were produced in a purple-tinted plastic, an idea that is analogous to how drug dealers mark their items (via). (And, for what it's worth, Ghostface Killah was named the all-too-Caucasian-sounding "Ghost Face Killer" on this album.)
"Let's cut to the chase: concept albums and "coke rap" are two of the most furiously popular musical trends of the past two years. being a fan of not only the album-length narrative, but also of the street-level workings of the drug trade (my next book purchase is the autobiography of "nicky" barnes, one of the most notorious snitches in history), i should let it be no secret that only built 4 cuban linx by raekwon (and co-starring the most brilliant wu-tang clansman, ghostface killah) is my all-time favorite hip-hop record. when sequencing my forthcoming debut album (also an album-length narrative), i took a few cues from cuban linx, which is probably something you don't hear every day from a folk singer.
"growing up with cuban linx:
"to this day, it seems as though raekwon's solo (and i use that term very loosely) effort is one of the most forward-thinking albums of any genre that i've ever heard. in 1995, on or around my twelfth birthday, i couldn't wrap my head around the drug terminology, the "get smart" references, and half of whatever the hell masta killa was saying during wu gambinos; the latter of which still escapes my realm of understanding. at twelve, the only things i understood from this particular album was that we don't believe in heaven because we're living in hell (which scared the shit out of me, because i was being raised by my staunchly christian grandmother), biggie ripped off nas' album cover when ready to die hit the shelves, rza was the best producer living, and "bitches want their titties sucked"; the latter of which being the first thing i ever learned about the birds and the bees.
"the lyrics:
"i'd like to believe that i've developed a further understanding of music and lyricism in general over the past eleven years and change. as i started to develop into a bookworm, little narrative jewels started to trickle their way out of the speakers: the columbians in knowledge god, the desperation to cash out of the hustler's life in rainy dayz, (sidebar: phonetically spelled song titles irritate me to no end: it's the writer in me. sorry for venting), the cartoonish money-splitting scenario at the beginning of "knuckleheadz" (sidebar: there it goes again. i'm trying to let it slide), and the brilliant solo ghostface joint, wisdom body, where he's charming a young lady while sipping on a drink. not only is the narrative absolutely compelling (which comes to its emotional climax in the middle of north star, in between papa wu's street corner preaching), but there's a dizzying level of obscure language, frightening threats (i don't know anyone who would throw another human being off of a airplane EXCEPT ghostface), glimpses of wit (check method man's verse in wu gambinos, justifying why in 1998, rza called meth "the micheal jackson of the wu-tang clan"), and the desperation of two drug dealers trying to escape their well-paying (but ultimately and obviously dangerous) occupation. not to mention that it has a shrewd, insightful verse from the original street poet, nas (best rapper alive: circa 1994). the seedy underworld is described in such ridiculously vivid detail, it undoubtedly spawned an entire generation of kids rapping their way through drug deals (and unintentionally spawned the two best hip-hop records of 2006, hell hath no fury by everyone's favorite virginia duo, the clipse, and ghost's own fishscale). more on
influence in a minute.
"the beats:
"now, none of the bandwidth space i've wasted talking about the dazzling wordplay and endlessly entertaining storyline they were on an album full of sub-par instrumentals. however, this particular set of lyrics were matched with some of the best beats of rza's career: the staccato violins and breathy vocal sample ("i wanna love you" is what she's saying, in case you were wondering) in verbal intercourse, the most sinister-sounding hit
single in rap history with ice cream, the WTF chaos (and title cribbed from julio iglesias, of all people) of glaciers of ice, the frank sinatra croon in ice water, the scarface clip, b-movie sample, and hard-hitting drums of criminology, and the pure, unfiltered soul of
heaven and hell. and i'm not even touching classic beats such as freestyle favorite incarcerated scarfaces. the beats are so varied, so cinematic, and so downright great, that it's hard to believe that they all actually came from only one person.
"the influence:
"tommy hilfiger once notoriously shouted out mobb deep in an interview, but historically, the very first rappers to sport "tommy hil" were the duo of ghost and rae. the two of them brought something to the wu-tang clan that none of the other members possessed: a keen sense of high fashion, and a taste for the finer things in life. i never heard a single thing about rockin' ice until rae and ghost were running through this record wearing diamond pendants in their chains. not to mention that these guys were thefirst rappers to have aliases on top of their pseudonyms. crack rap's class of 2005-2006 owe a great deal to their predecessors, from the thornton brothers' ruminations of the downside of the hustle to rick ross politicking with latin americans over boatloads of coke, it seems that everyone takes what they need from this often-overlooked wu-tang masterpiece. even a folk singer from seattle."
Raekwon feat. Ghostface Killah and Nas | Verbal Intercourse