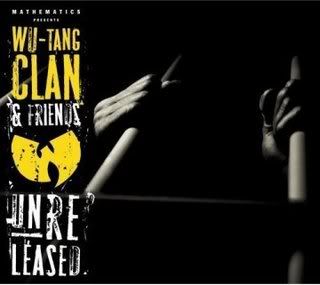 Remixes? Rarities? Wu-Tang Clan? Yes. Yes. And yes. It's almost impossible to keep up with all their projects. But it's fun to try.
The latest is Mathematics Presents … Wu-Tang Clan & Friends: Unreleased, a collection of – yup – previously unreleased tracks, including remixes and such. The album, on Nature Sounds, was compiled by Wu-Tang's DJ, Mathematics. As if you haven't had your fill of Ghostface with Fishscale and More Fish, this collection brings you remixes of Maxine, Wu-Banga and Wise.
Every Wu member, and then some, is on this album, available on Feb. 6. Seriously. What better way to say "I love you" to your significant other on Valentine's Day this year than with some Wu-Tang?
I've got a couple mp3s, though I can't promise both will be around for long. There's some hot Raekwon action on this album, though you'll get your share of Raekwon on Monday (foreshadowing!).
Ghostface Killah, Raekwon | Maxine (Remix)
GZA, Method, U-God, Raekwon, RZA | Da "W" (Remix)
Cover art via Nah Right, where you also can see the tracklisting.