The contributions have been coming fast and furious of late, and I'm more than pleased to offer up the ninth installment of I Used to Love H.E.R., a series in which artists/bloggers/writers discuss their most essential or favorite hip-hop albums (read intro). Jonah Matranga (ex-Far, New End Original, Gratitude, aka Onelinedrawing) takes a stream-of-consciousness approach in discussing two seminal hip-hop groups, the type of entry I love about doing this series because of the freedom contributors have to shape their thoughts.
(Note: Jonah will appear March 18 at Modified in Phoenix with Joshua English and Frank Turner.)
Jonah Matranga
On Public Enemy and Boogie Down Productions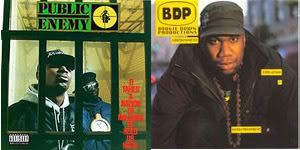 PE, BDP, Youth Speaks — San Francisco, late-night, 15Jan2007
"I put this together to…"
Not sure what was holding, resistance is quiet sometimes, just digs in and somewhere you just stop wishing, but tonight at YouthSpeaks all different melanin counts surrounded resistance and took it down.
My favorite remains the girl in the 'Philippines' shirt, humility without affectation, the first person to speak before she spoke, and be more reforming than performance. There was, though, someone I missed half of, and an older guy that actually reminded me of KRS, which is as good a place to jump as any, though we'll come back to this thing that got me coming back to this, this ode to PE and BDP, these people that keep reminding me of that great place between chaos and too slick, between boring practiced licks and bricks through windows for no better reason than cos you miss someone.
Chuck did really sound like Martin in the best way (Luther King, the reason for the thing tonight that got me thinking), and in the last poem by the host, she spoke so eloquently about King's humanity and taking the shackles of archetype off — just like Johnny Appleseed in The Botany Of Desire, these wires running through our very nervous systems — but Martin Luther King was that huge and beyond and the duality is inevitable, the myth-making and immature disappointment when the people we drape our dreams on turn out to be people.
I'm glad it ended up being Flav on the stupid shows, and that Chuck at least kept ranting even if the focus got fuzzy, his boom still works, even on odd Ali ESPN specials there's still treasures. Now Ali, there's someone that was like Kerouac said, who never said a commonplace thing and just burned, burned, burned. I do love Flavor, and he never owed me anything, but that's the other sad thing, when icons live beyond postage-stamp preservation and we see them soften and twist, trees past season.
Maybe that's one more way I love records. A Nation Of Millions has so many moments that will burn and scald until long after we're all called Home, and they were sweet and angry and unabashedly idealistic, not all cannibalistic, really finding something new just by speaking their truth but not settling for the sound of their own voices, celebrating, not settling.
"Now tell me what the fuck am I supposed to do?…."
It was KRS that could say a line like that and not have the anger of it, the victim-hood wash away the painful culpability and teenage angst of a whole different color in so many ways, getting chased down for a real crime that was certainly helped along if not directly caused by duller, grayer, quieter misdeeds and false leads, that people like me played into with our lies of stolen bicycles in bushes and not speaking up when the cop thought I was black, me the little Jew that didn't even know I was, didn't know what I was except sad and not feeling like the white folks around me, not feeling the family thing, feeling like incinerating, but never incarcerated save for hours at a time, dancing close with hot trouble, and I think now that I heard those guys in ways I didn't know then, until this very moment really, that I felt empathy and next to me, as in outside myself, and wealth that was relative but real and not an abstraction, a wall that was between me and where I would have gone
If.
I felt that shame, and I yearned for it, and had no idea, the irony there was in these black men speaking my truth by mutual accident and musical choice. One voice.
Really, just listen to 'Night of The Living Baseheads' (PE, Nation Of Millions) at 1:03, where the top line comes from, and 'Love's Gonna Get'cha (Material Love)' (BDP, Edutainment) at 4:57, where the second line comes from, repeating throughout the song, reminding us, driving it in. Think of young girls in all manner of inner cities, with poverty, gender AND race in their faces, like three different dogs chasing them. Think of men growing up and living the ridiculous redundancy of Trying To Be A Man when there they are trying not to fall into the traps that come with that packaged, fictitious pursuit. Think of me with my Sister and my Mom (so, who's missing?), me listening to these men a four-hour drive away was before I could drive much less arrive at any sort of understanding, but take in the gorgeous, complex truth these guys were handing out without so much of the grandstanding that has since corroded hip-hop, and it seems somehow more tragic than grunge or emo falling prey to pop culture manufacturing cultures, any authentic movement turned trends like tight bros from way back when turned fake friends.
These are older brothers (and even moreso the fathers) that I never had, exactly because they probably never had fathers, and that reminds me of one last poem that one guy spoke, thanking his father for not being around, and I suppose I should too, cos if he had been I maybe would never have found the solace I did in Chuck and KRS and Flav and Scott and Terminator X, taking me to the edge of panic with them, and I will listen to those records back to front and not forget that.
Public Enemy | Night of the Living Baseheads
Boogie Down Productions | Love's Gonna Get'cha (Material Love)