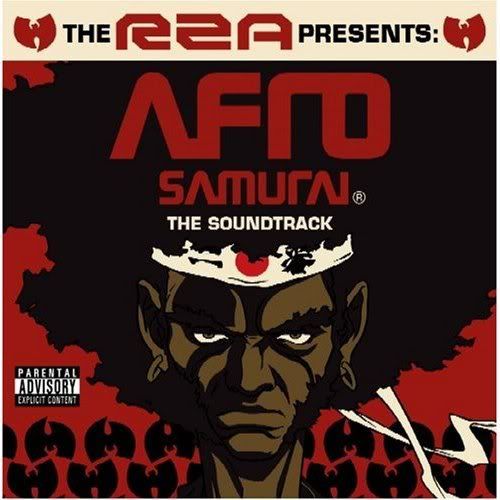 I have yet to watch Afro Samurai, a new animated series on Spike (television for men! … boobs, blood, bullets, hundreds of CSI reruns a day!), but I can't imagine a more perfect musician to oversee/produce a soundtrack for it than RZA, he of Wu-Tang Clan fame.
Afro Samurai, per the Anime News Network (yeah, I know), is "the tale of a black samurai futuristic, yet feudal Japan who is on a mission to avenge the wrongful death of his father." Naturally, Samuel L. Jackson – executive producer/Jedi – voices Afro, the title character. His samurai sword is the one that says bad motherfucker on it.
Enough of the show; I'm more interested in this soundtrack, which features Q-Tip (you all know I'm a fan of his), Talib Kweli, GZA and Big Daddy Kane (on the same track!) and more. As the de facto head of Wu-Tang, which always has played with loose analogies of its crew to kung-fu warriors, RZA was made for this project, just as he was the Ghost Dog: The Way of the Samurai soundtrack.
The Afro Samurai soundtrack is a combination of vocal and instrumental cuts. RZA's theatrical leanings always make for intriguing choices, and this is no different. It's cohesive, and like many Wu-Tang projects, it incorporates dialogue from the show for a little dramatic effect.
The soundtrack comes out Tuesday on Koch Records.
RZA feat. Q-Tip, Free Murder | Just a Lil Dude (Who Dat Ovah There)
RZA | Ninjaman (instrumental)