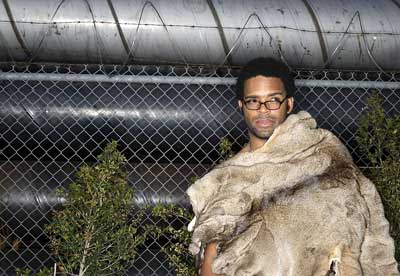 In one of the stranger concert promotion hoaxes I've seen/read about, the guys at the Blunt Club canceled what turned out to be a phantom Killah Priest/Luckyiam show on Feb. 5 after it was discovered there were "rogue agents" taking offers for a tour that never existed.
Thankfully, the Blunt Club crew is well-connected and moved quickly for a more-than-worthy replacement with Busdriver, who released the mind-bending, tongue-twisting RoadKillOvercoat in 2007 on Anti.
I'm already attempting to line up an interview with the man born Regan Farquhar. I hope it happens because there's one thing I've always wanted to know: How do you discover you can rap like that? And at what age? I'm also intrigued by the mechanics of his writing and production. How do you create beats for a guy that spits rhymes at a pace double that of your average MC?
Anyway, Busdriver and Flying Lotus hooked up recently for an Obama inaugural tribute song called Will He, a real think piece among some of the pie-in-the-sky tributes we've heard of late.
Related:
Busdriver + Antimc: Pennyaire
Pigeon John/Busdriver, Chaser's, 10/8/06