Note: This is the first in what I hope will be regular contributions from Jason Woodbury, a local musician (Hands on Fire and Cardiac Party) who has graciously accepted an offer to profile bands/musicians from our fine city/state. Please welcome him aboard.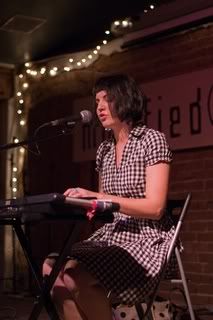 Dakota Jeane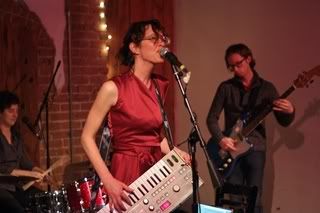 Obi Best
I was fortunate enough to catch the live debut of Shane Kennedy's Towncraft at Modified last Thursday, supporting Social Science recording artist Obi Best, along with locals
Gita and Dakota Jeane. Gita played a set of pleasant, polite indie folk, while Dakota Jeane, of socialist agit-folk duo Dakota & the Black River Bandit, performed songs from her recently released solo EP My Bell Jar. Her presentation revealed that she's still finding her footing as a solo artist, but her charm smoothed over any instrumental gaffs. Headliner Obi Best, featuring Alex Lilly of The Bird and the Bee, accompanied by members of Beck and Jenny Lewis' touring band, played their erudite pop to a devoted crowd. While I stupidly and ignorantly wrote them off as twee pop after precious little research, I was incredibly into their set, especially when Lilly set aside the guitar for a self described "keyboard purse" and the songs took on a demure Stereolab like quality.
It was Towncraft I was most excited about, based on the strength of the members other projects, such as the majority of the group acting as songwriter Daryl Scariot's accompaniment in Turn Back O' Man, violinist Megyn's work with Dry River Yacht Club, upright bassist Dario Miranda's jazz combo Black Bear Ensemble (who played a phenomenal set down the street at the Lost Leaf after the show) and lap steel player Matt Wisner's alt-country group Tierra Del Fuego. With the bar set high, Towncraft didn't disappoint. The instrumental sound of the Dirty 3 might be an easy reference point, but with guitar work heavy on feedback and baring an unmistakable Thurston Moore via John Fahey feel (guitarist Brent Miles was indeed sporting a Sonic Youth shirt), the spaghetti western idea makes for a good starting point, but the sound moves into areas far more spacious, ominous and majestic than a "recommended if you like" tag allows. A Phoenix band to keep a watchful eye on.
(YouTube video courtesy of SilverPlatter; photos courtesy Christian Johnson. For more photos of this show, click here.)