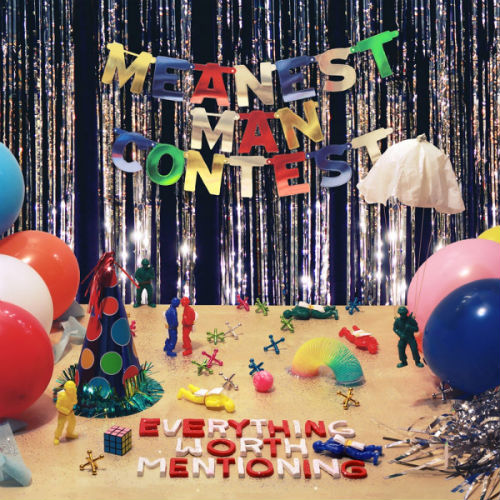 If you've been paying attention over the years, you've probably
already heard/collected
a good portion of the new Meanest Man Contest album,
Everything Worth Mentioning
, coming out Oct. 29 on Gold Robot Records.
Yes, the album marks the first since 2003's acclaimed Merit for the Bay Area duo of Noah Blumberg (aka Quarterbar) and Eric Steuer (aka Eriksolo). But in the years that followed, MMC released a series of singles, EPs, remixes – and the best of those songs (along with a new one, "In the Dark," and some other unreleased demos and such) make up the collection on Everything Worth Mentioning.
Steuer told me: "The idea was to take a look at the dozens of songs we'd done since our first (and only) album, throw out everything that didn't hold up, and remix, remaster, and in some cases re-record the stuff we liked the best."
Aside from tying loose ends into a cohesive album, the idea of confronting your own work for self-judgment 10 years later seems daunting. But there are so many highlights here that I've raved about in the past: There's "Partially Smart" and "You Don't Wanna Know" and (one of my favorites) "Throwing Away Broken Electronics."
Gold Robot and MMC have made a stream/download available of the new one, "In the Dark," a synth-heavy track that veers off the hip-hop course and show's the duo's range and penchant for experimenting.
You can order "Everything Worth Mentioning" on 12-inch white vinyl, which is limited to 250 copies, via Gold Robot.