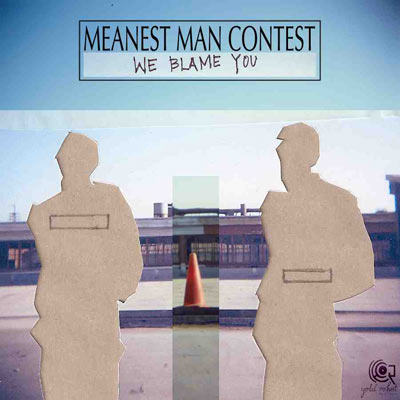 I think if hip-hop is going anywhere – if it wants to think new, think different, think outside the bun – it would do well to take a few hints from Meanest Man Contest.
The Bay Area duo of Quarterbar and Eriksolo are constantly tweaking and redefining what we think hip-hop should be. I like that I've been challenged to think about hip-hop in a new way with how MMC fiddles with beats and rhymes in a very electro-pop sort of fashion. They craft beats; they don't cop 'em.
On the new We Blame You EP – on the always-great Gold Robot Records – you can find a great example of that on You're Right. It's Ballin', an instrumental track that layers beats and minimal sampled vocals over a mesmerizing synth line. (Also, love the title of the track.)
You can pick up We Blame You at eMusic. Dig into some more Meanest Man Contest at RCRD LBL.
We Blame You tracklist (and kudos to Hunter on the cover design):
1. We Wouldn't Want it Any Other Way (Débruit remix)
2. Throwing Away Broken Electronics (Mochipet remix f/ DJ Lion)
3. You're Right. It's Ballin'.
4. They Do (Multi-Panel remix)
5. They Do (Roman Ruins version)
Meanest Man Contest | Throwing Away Broken Electronics (Mochipet Remix f/ DJ Lion)
ALSO:
And, of course, the video – a wonderful example of how slow motion should be used: