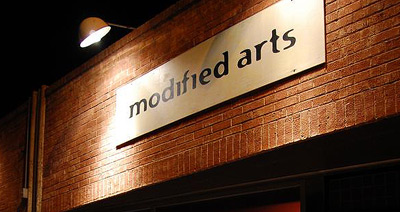 Modified Arts, an all-ages venue in downtown Phoenix that has been a staple of the local music scene and a vital venue for touring indie bands for nearly 11 years, will change direction and transform into a space focused mostly on art. (Read more here and here.)
As such, I am collecting thoughts and memories from the musicians who played there and the fans who attended its many shows. This is less an obituary and more a celebration of a less-than-perfect but charming venue that, as we know it now, will be missed.
First up is David Jensen, founder of local band Art for Starters (and late of Before Braille) who turned around an in-depth and genuine narration of his affection for Modified.
Modified gave me my biggest motivation for being in a band or having a record label. The clubs and bars in most of my previous experiences were a turn off. Modified made my interests and ideologies tangible under one roof. In the beginning, that roof was not only shelter to local artists and musicians, but it was called home in a very real sense for the tenants who lived on the other side of the wall that used to separate the gallery in half. The air-conditioning was about as capable as the original PA. Hearing vocals, or feeling comfortable in Modified was nearly impossible, but it never deterred me or any of my fellow frequenters. Bands were always loud, and the PA could never keep up. If the band sounded good, it's because they were good. It was impossible to fake anything at Modified. When I'd watch bands struggle to pull off a good set, it would feel so organic. When my band played there, it always made us focus on our playing and our sounds. Every night would be another episode of trouble-shooting, and it really made us a better band. I was constantly humbled after a night when I wasn't prepared.

I made at least weekly trips to see local great local bands like Half Visconte, Fightshy, Pinewood Derby, Sea of Cortez, Fivespeed, or Sound of Sirens, Reubens Accomplice … etc. Most of the "fans" watching were in bands. In the early days of Modified, it really meant a lot if you got a lot of people out to your show. And the number of local artists in the audience was a good barometer for how well your band was doing. I went to a ton of local shows, but my favorite bands in the country always made their first Arizona appearance at Modified. Conor Oberst was 19 the first time he came through. I'm pretty sure David Bazan and Damien Jurado were skinny the first time they came to Modified! Heh. Modified opened during a really exciting and early time for that genre. Bands like Death Cab For Cutie, Braid, Pinback, Bright Eyes, No Knife, Cursive couldn't even come close to filling the place. (I don't want to focus on bands of that type, but I do think Modified was particularly helpful for, and available to, those kinds of bands at a exciting time for that genre.)

Of course Modified was never just bands. I also found my favorite local artist, Sergio Aguirre, at Modified and have five of his paintings in my possession now. (We used his work for two different album covers.) And let's be honest, would First Friday even exist w/o Kimber and Modified?

I received an education every night I went to Modified, and became more and more inspired. I also felt like volunteerism there was so genuine and personal. Even though I was at Modified almost every week, each visit for me felt special. One would see constant acts of consideration and respect every night. You could hear a pin drop during acoustic sets and even at rock shows people standing in front of you would adjust their position to give you a better view of the stage. It was amazing. Modified really did create some sort of utopia for local independent artists. Modified was also pretty much the only place I'd invite my family to see my shows.

It got so hot inside that immediately after a set was finished, people would spew out of the doors like lava from a volcano. Between sets things would sometimes get even more interesting. I saw multiple sex and/or drug deals go down right across Roosevelt Street. Prostitutes would openly offer their services where condos and flats now exist. In the early days of Modified, you could get maybe water and Jones Soda to quench your thirst, so sometimes we'd bravely walk down Roosevelt to the Circle K. Nobody would go alone, and you'd never make it there w/o having to avoid some encounter with some obstacle. It blew my mind the day construction started for a business space on that stretch of ill-repute. I was excited about the growth and development, but it really was a surprise.

Modified, in the beginning, felt like a commitment. I don't know how to explain it, but I always felt like I was taking on some kind of responsibility just by being there. Maybe that's just me, but I felt like I was not only there to enjoy the bands or artists, but I was kinda obligated to make sure everything went smoothly or to lend a hand. It was common for people to help carry gear for touring bands, or jump on the PA when something was feeding back, or help manage the stage w/ falling mic stands or unplugged guitars or pedals. Maybe I'm just a romantic, but even paying the cover charge was an honor. And everything was capped off each year with Modifest or something like unto it. I also appreciated Kimber and Scott Tennent. Kimber was always gracefully doing 50 things at once, and Scott was always available to discuss etiquette in a humorous way. I actually learned a lot about proper band etiquette from Scott and others at Modified.

I really don't know what to say about Modified. Typing about it doesn't really connect my thoughts and memories to my feelings very well and I don't think I'm doing a very good job describing my experience. Open conversation about the place is always easy though. I guess if I had to narrow down my thoughts, I think most things would just point to appreciation. I felt really blessed to have an all-ages venue that by its nature and by the many obstacles that tried to thwart the experience became a genuine experience. It wasn't easy for Kimber to open the venue or to keep it alive. It wasn't easy for volunteers to maintain it. It wasn't easy for bands to perform well. And it was always so damn hot. It was definitely not an "easy" viewing experience. Nothing was really comfortable and nothing came without at least some effort from each person involved or in attendance. And because if it, everything felt genuine. For rock shows especially, if you were at Modified, you were there for the music and to support the bands and venue. For what other reason would be there? There was no other distraction or sustenance. You couldn't get food. You couldn't get drunk. You couldn't get comfortable. You couldn't even use the bathroom without standing in line, or waiting for some dude to get out of the shower.

So, I thank Kimber and Modified. I thank the volunteers. I thank Scott Tennent, Leslie Barton, and everyone booking shows and maintaining and representing the experience. Without Modified and its supporters, I don't think I would have never been in a band, never had a label, or ever made a record; and those achievements and those experiences are some of the best parts of my life.