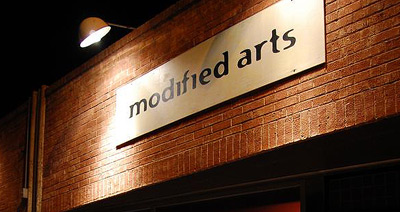 Modified Arts, an all-ages venue in downtown Phoenix that has been a staple of the local music scene and a vital venue for touring indie bands for nearly 11 years, will change direction and transform into a space focused mostly on art. (Read more here and here.)
As such, I am collecting thoughts and memories from the musicians who played there and the fans who attended its many shows. This is less an obituary and more a celebration of a less-than-perfect but charming venue that, as we know it now, will be missed.
First up is David Jensen, founder of local band Art for Starters (and late of Before Braille) who turned around an in-depth and genuine narration of his affection for Modified.
Modified gave me my biggest motivation for being in a band or having a record label. The clubs and bars in most of my previous experiences were a turn off. Modified made my interests and ideologies tangible under one roof. In the beginning, that roof was not only shelter to local artists and musicians, but it was called home in a very real sense for the tenants who lived on the other side of the wall that used to separate the gallery in half. The air-conditioning was about as capable as the original PA. Hearing vocals, or feeling comfortable in Modified was nearly impossible, but it never deterred me or any of my fellow frequenters. Bands were always loud, and the PA could never keep up. If the band sounded good, it's because they were good. It was impossible to fake anything at Modified. When I'd watch bands struggle to pull off a good set, it would feel so organic. When my band played there, it always made us focus on our playing and our sounds. Every night would be another episode of trouble-shooting, and it really made us a better band. I was constantly humbled after a night when I wasn't prepared.

I made at least weekly trips to see local great local bands like Half Visconte, Fightshy, Pinewood Derby, Sea of Cortez, Fivespeed, or Sound of Sirens, Reubens Accomplice … etc. Most of the "fans" watching were in bands. In the early days of Modified, it really meant a lot if you got a lot of people out to your show. And the number of local artists in the audience was a good barometer for how well your band was doing. I went to a ton of local shows, but my favorite bands in the country always made their first Arizona appearance at Modified. Conor Oberst was 19 the first time he came through. I'm pretty sure David Bazan and Damien Jurado were skinny the first time they came to Modified! Heh. Modified opened during a really exciting and early time for that genre. Bands like Death Cab For Cutie, Braid, Pinback, Bright Eyes, No Knife, Cursive couldn't even come close to filling the place. (I don't want to focus on bands of that type, but I do think Modified was particularly helpful for, and available to, those kinds of bands at a exciting time for that genre.)

Of course Modified was never just bands. I also found my favorite local artist, Sergio Aguirre, at Modified and have five of his paintings in my possession now. (We used his work for two different album covers.) And let's be honest, would First Friday even exist w/o Kimber and Modified?

Continue reading Modified memories: David Jensen (Art for Starters) →