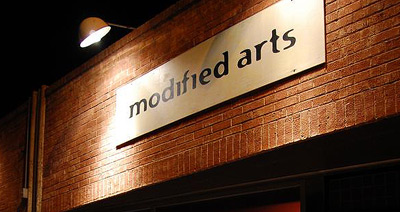 Modified Arts, an all-ages venue in downtown Phoenix that has been a staple of the local music scene and a vital venue for touring indie bands for nearly 11 years, will change direction and transform into a space focused mostly on art. (Read more here and here.)
As such, I am collecting thoughts and memories from the musicians who played there and the fans who attended its many shows. This is less an obituary and more a celebration of a less-than-perfect but charming venue that, as we know it now, will be missed.
This entry comes from Jared Bell, who with his brother Michael form Lymbyc Systym, whose excellent new LP, Shutter Release, was released on Mush Records earlier this month. The one-time Phoenix duo has plotted a West Coast tour with a Jan. 13 date set for The Sail Inn in Tempe with Helios and What Laura Says.
Modified smelled bad. It had a shitty PA, and the sweat lodge atmosphere from the swamp cooler in July put me on the verge of heatstroke more than once. But, as it turns out, that is the perfect recipe for one of the most unique, dynamic and memorable venues we have played. In over four years of extensive touring around the world, I still have not come across a place quite like it.
Modified managed to function as a legitimate venue without sacrificing the intimacy and raw energy of a house show. It is was one of the very few places where a nationally recognized touring act could play to a crowd of forty people as though it were their first show. Perhaps that is because Phoenix has an apathetic scene and Modified was the only place catering to a specific type of music. But, I'd like to believe it's because Modified was a bullshit-free venue. It was located in no man's land (at least at the beginning). There was no bar, no air conditioning, no sub woofers, and it was not exactly an ideal atmosphere for loud conversation or picking up girls. At the same time, it lacked the austere, pretentious and limited vibe associated with most "art spaces." In other words, people came there simply for the music. As a musician playing on the Modified stage, you could really feel the purity and sincerity of the crowd. And for me, when it comes down to it, that is the reason I play music – to have an honest connection between human and sound. Modified is one of the few places where I have really felt that connection deeply, and I think a lot of others have, too.
Modified served as a home to us, and it will be deeply missed as music venue.
PREVIOUSLY:
Stephen Chilton (Psyko Steve)
David Jensen (Art for Starters)