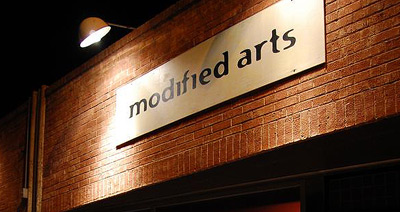 Modified Arts, an all-ages venue in downtown Phoenix that has been a staple of the local music scene and a vital venue for touring indie bands for nearly 11 years, will change direction and transform into a space focused mostly on art. (Read more here and here.)
As such, I am collecting thoughts and memories from the musicians who played there and the fans who attended its many shows. This is less an obituary and more a celebration of a less-than-perfect but charming venue that, as we know it now, will be missed.
This entry comes from longtime Valley promoter Stephen Chilton (aka Psyko Steve), who also wrote some thoughts on the changes at Modified here.
I have written a lot about Modified lately and so for this post I thought it would be fun to make it more personal. The first show I ever set up as a promoter was in the fall of 2000 when I was still a senior in high school. Modified was the kind of place that would let anyone set up something if it sounded neat. The first several shows I set up were all for local acts that were my friends. Back then my shows always worked out because it was just good friends playing for other good friends.
Not long after I started doing shows I had a show on a Friday night and a month or so before the show a promoter down in Tucson named Nick Celi hit me up about getting two California bands on the show. The crazy part was I knew who the bands were! Not in a sense I knew them personally, I just knew who they were! I was a fan of the one of the bands. At the time it seemed crazy to me that two legit bands wanted me to book them a show, I was kind of green to how hard this business could be. Remember this was before most bands had Web sites or even MySpace pages. I don't know if I was even using email at the time and the band mailed me a cassette tape so I could hear their new songs. I just recently found that tape again and don't think I could even play it now.
Day of the show a van pulls up and Limbeck roll out wearing OP Short Shorts, tank tops and big sunglasses. They looked like they were going to the beach not a rock show in Phoenix. The show was a huge success, at least the way I remember it. That was the first time I had ever booked a show for a national act.
Since then I have done more shows for Limbeck than I can count, I have done shows that sold out, done shows that were far from it, done shows for them in a living room in Tucson, and watched them play in four or five states, and last year I did two crazy packed nights in a row at Modified for them. They have become some of my most cherished friends. For Patrick's bachelor party we all went camping in Joshua Tree National Forest (not the most orthodox bachelor party but a whole other story nonetheless). Next year one of them will even use Modified Arts as the site for his wedding reception.
One of the things I love about what I do for a living is not the great bands I have worked with over the years but the great people I have become friends with. So many of the relationships I value most and have had the longest either started at Modified or have revolved around it. I am looking forward to watching the new owners make Modified into something new again.
PREVIOUSLY:
David Jensen (Art for Starters)