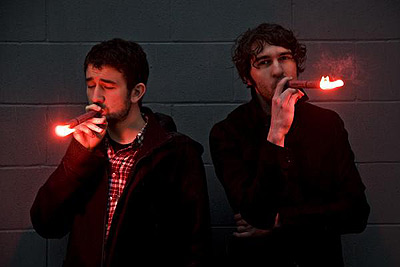 Two months ago, Phoenix music fans were forced to make a tough concert-going decision for Monday night: Frightened Rabbit, Beach House and Japandroids were all playing in the Valley on the same date at different venues – an example of the annual spillover thanks to our proximity to Coachella. Unfortunately, the choice narrowed over the weekend after Frightened Rabbit was forced to cancel because of grounded flights in the UK due to the spewing ash from the Icelandic volcano.
That set off a domino effect in town: Stateside Presents has since moved Beach House from the previously sold-out Rhythm Room to the larger Clubhouse, where Frightened Rabbit was supposed to play. That means more tickets have become available. (The Middle East, originally opening for Frightened Rabbit, remains on as support for Beach House.) Likewise, Japandroids (with Avi Buffalo opening) have now been moved from The Trunk Space to Rhythm Room.
So with Frightened Rabbit sadly no longer an option – crushing our dreams of that potential laser show – I've chosen to check out Japandroids instead of Beach House, a decision some people find questionable. But the duo's 2009 album Post-Nothing gets heavy rotation, and I've been happily spinning my new Art Czars 7-inch that I picked up at Stinkweeds on Record Store Day.