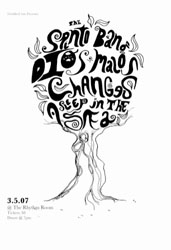 Dios (Malos) — nee, Dios — has made a new, unmastered track available as they hit the road with the Spinto Band and the Changes.
The new album — no release date yet — appears to be named Life Between the Tides, if the album tag is to be believed after download. And this new track, In Control of the OJ, is pretty much everything we've come to expect from Dios: hazy, trippy, psychedelia-inspired pop.
On that note, Dios has one of the most scatterbrained, unorganized and, well, kinda compelling Web sites around. (I mean, really, what the hell? The weed must be pretty strong out there in Hawthorne, Calif.). Anyway, in "new news," they are asking for suggestions on new band names … perhaps facetiously? Nobody knows.
The Spinto/Dios/Changes tour hits Phoenix on Monday at the Rhythm Room. Local favorites Asleep in the Sea also are on the bill. Advance tickets at Stinkweeds.
Dios (Malos) | In Control of the OJ